Campus & Community
Scholar Spotlight: Billy Gallagher G'17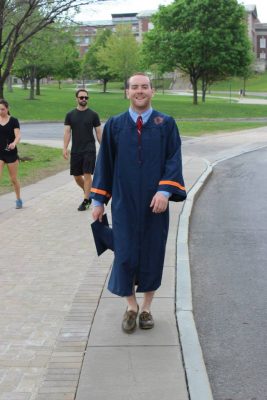 Billy Gallagher, a second-year graduate student in the School of Information Studies (iSchool), chose to remain at Syracuse University to earn his graduate degree in information management after first earning his B.S. in information management and technology in just three years. Hailing from Cape Cod, Massachusetts, Gallagher is a graduate assistant in the iSchool and received the Class of 2015 iSchool Dean's Scholar Award. He's also a member of the WiTec group in the iSchool, where he works on cloud projects for various organizations, such as government, conferences and academics, as well as helping to put on events for the iSchool.
As Gallagher prepares to leave Syracuse in May 2017 with both his undergraduate and graduate degrees, he reflects on the five years he spent making memories and preparing for life beyond the Hill.
Q: Why did you originally choose Syracuse for your college education?
A: While there were a number of factors that went into my college decision, the reason I chose Syracuse above all else was the School of Information Studies. The other universities I was considering all had excellent business programs that I found somewhat appealing and intuitive, but nothing captured my actual passions and dream job scenarios better than the iSchool. I was completely unaware before touring the campus that such a program even existed anywhere in the country and was infatuated with the idea of being an information management major throughout the end of my high school career.
After being accepted to the University, I really started looking into the cultures of the schools I was weighing, and none of them seemed to even be a close second to the combination of school spirit and day-to-day excitement that Syracuse offered. Between the excellent academic program I was interested in and the social opportunities the University could provide, it really became an easy choice to come to Syracuse. And I haven't regretted it for a single moment since.
Q: Why did you choose to stay and earn your graduate degree?
A: During the fall semester of my junior year, I met with my advisor for a routine check-in to see if I was on track for finishing my program on time. She found that due to some AP classes in high school, I only needed about a semester's worth of credits to graduate and would be out of school by the end of spring. After she informed me that I couldn't just take five credits a semester for a year and a half, I started to search for other options. Since I had not started any type of job search at that point, I looked towards the iSchool's highly regarded graduate program.
Thankfully, with the help of a lot of iSchool faculty, I was able to set up what was essentially a personal curriculum where I could graduate in three years and immediately start as a graduate student the following fall. I was lucky enough to receive a GA position with Jeff Rubin in IST195, which also knocked off a portion of tuition I was facing. I am extremely fortunate to be in this situation and owe a number of people plenty of thanks for helping me get in this position.
Q: What's your favorite Syracuse memory or story?
A: Every year, my friends and I would do a roommate Christmas gift swap with the only stipulation being it had to be under $15 and from the 3Fifteen thrift shop in Marshall Square Mall. Every year, I got my roommate "American Pie 2" on DVD, and I don't think he figured out it was intentional until our senior year. It was an awesome tradition that was fun to look forward to during the winter and was one of the best times I had while here with my friends.
I also was gifted a great Red Sox hoodie and a Cleveland Browns SI limited edition rain jacket I still wear on a regular basis, and an old-school putter with an SU-themed grip, so it really worked out for me, too.
Q: What about Syracuse's academics, particularly in your home school, has helped you the most?
A: Through the iSchool, I have been exposed to and built experience with some of the most cutting-edge technologies and IT principles available and used them in legitimate professional situations. Many of my professors are experts in their respective fields and are well versed in the knowledge and application of various disciplines, such as cloud computing, web design and database management. I have gained strong working knowledge of so many valuable skills that I cannot wait to use in a professional setting.
Q: If any, what kind of internships or career experience have you had?
A: For almost three years I have been working at ITS in the Learning Environments department on campus, and it has been an awesome time as both a day-to-day job and as experience for a future career. The people I work with have all been extremely helpful in guiding me and providing meaningful responsibilities as my skills have become more defined and usable, and I have learned much about system setup, maintenance and user troubleshooting throughout the process.
Q: What do want to do post-graduation? Any concrete plans?
A: I am lucky enough to have accepted a position with Accenture as a technology analyst starting this summe,r and I could not be happier with it. I'll be living in New York and traveling around most of the Northeast, and will hopefully be exposed to a number of cutting-edge technologies and projects that I had always hoped I would be a part of growing up. I can't wait to see what the future brings.
In the longer-term future, I have no real concrete goals or ambitions. The information field has a new revolution every few days it seems, and trying to predict what industries will develop and careers will form is impossible. As long as I keep working hard and focus on making smart decisions, I am more than content to go with the flow and see where the future takes me.
Q: Anything else you would like to add about your Orange story?
A: When you leave SU for the last time as a student, all the little issues and arguments you faced that seemed like huge problems at the time really start to look pretty meaningless in hindsight. Don't let the minutia of school work and social expectations distract you from the friends and experiences you create along the way, because those are the only things that really matter in the long run.