Media, Law & Policy
Multicultural Empowerment Network Presents 'Redefining America' Panel Discussion Sunday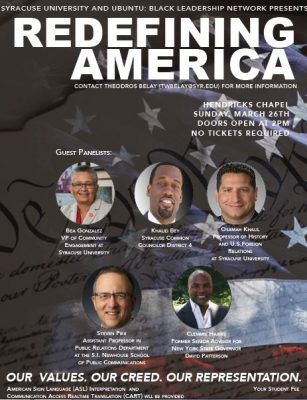 The Multicultural Empowerment Network will present a panel discussion, "Redefining America," at 2:30 p.m. Sunday, March 26, at Hendricks Chapel.
The objective of the event is to engage in dialogue with featured panelists and discuss various issues concerning immigration, health care, media representation and the current state of our democracy.
Panelists include Bea González, vice president of community engagement at Syracuse University; Syracuse City Councilor District 4 Khalid Bey; Osamah Khalil, assistant professor of history in the Maxwell School; Clemmie Harris, former senior advisor for New York State Governor David Patterson; and Steven Pike, assistant professor of public relations in the Newhouse School and former member of the Department of State.
"In light of our recent presidential election, I found the topic Redefining America to be a topic of controversy, but a topic of relevance," says Theodros Belay, a member of the Multicultural Empowerment Network, who is hosting the event. "I have spoken to members from the People's Church to high schools across the Syracuse district. Their hearts are strong, but their concerns are real. And though we may be of different race, ethnicity, sexual orientation or even share different stature in life, there is one concept I know wholeheartedly to be true: Out of many we are ultimately one."
American Sign Language interpretation and Communication Access Real-time Translation (CART) will be provided.