Campus & Community
Middle States Steering Committee Kicks Off Feedback Phase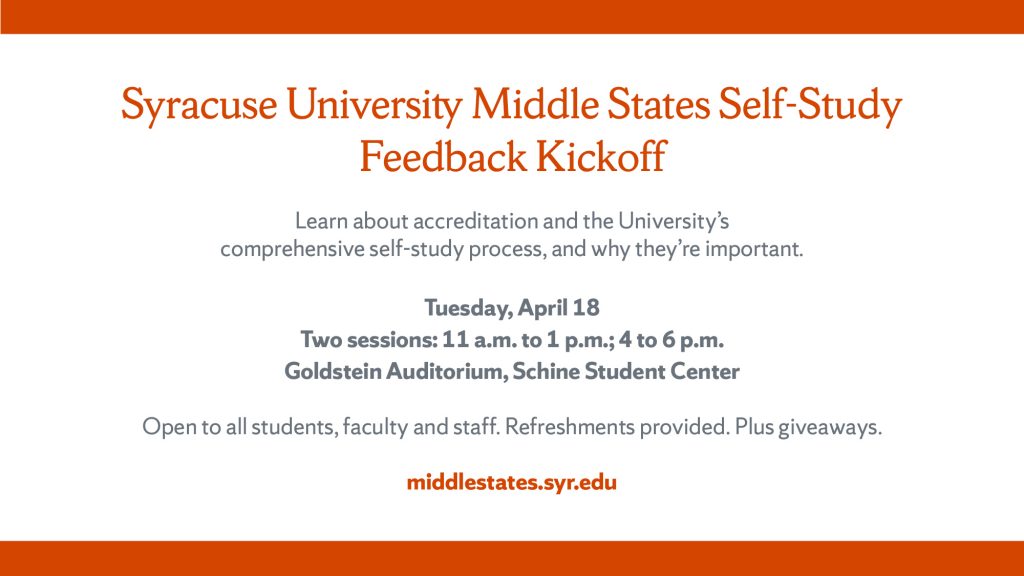 Syracuse University's Middle States Reaccreditation Steering Committee will host a campuswide self-study feedback kickoff event on Tuesday, April 18, in the Schine Center's Goldstein Auditorium. Two identical sessions are scheduled—11 a.m. to 1 p.m. and 4 to 6 p.m.—to update the campus community about the process of securing reaccreditation from the Middle State Commission on Higher Education and to invite feedback on the preliminary draft self-study report.
The program will include opening remarks by University leaders and a brief explanation by one of the steering committee tri-chairs on "What is accreditation?" That will be followed by two- to three-minute overviews by representatives of each of the seven working teams on their findings and preliminary recommendations for their portion of the self-study report.
As part of the Middle States reaccreditation process, each of the working teams focused on a specific standard required for inclusion in the University's self-study report: Mission and Goals; Ethics and Integrity; Design and Delivery of the Student Learning Experience; Support of the Student Experience; Educational Effectiveness Assessment; Planning, Resources, and Institutional Improvement; and Governance, Leadership, and Administration.
Following the presentations, attendees will be free to circulate among various stations to hear more about findings and/or recommendations relating to specific standards, offer input or feedback, or view the preliminary draft report.
The full document also will be posted online for campus review and feedback in late April and remain posted until September. Feedback from the April 18 session as well as online feedback will be noted for consideration as the steering committee makes further edits to the document in preparation for its final submission by Dec. 22, 2017.
The overarching goal of the accreditation process is to ensure that all aspects of University operations, practices and programs align with the institution's publicly stated mission and the ethical standards of higher education culture. Evidence, in the form of assessment data, is required to support findings. More than 100 faculty, staff and students have been involved in assembling relevant data relating to each standard to help shape the findings and recommendations that will be submitted in the final report.
Middle States had required all of its accredited universities to undertake the full reaccreditation process every 10 years; it has since changed the requirement to every eight years. In addition to serving as a public indicator of quality and accountability, accreditation is required in order for University students to be eligible for federal aid.
The April 18 event is open to all members of the campus community. Refreshments and giveaways will be available at both sessions.
For more information on the University's Middle States reaccreditation process, visit middlestates.syr.edu.