Arts & Culture
Kathak: A Dance Concert Featuring Labonee Mohanta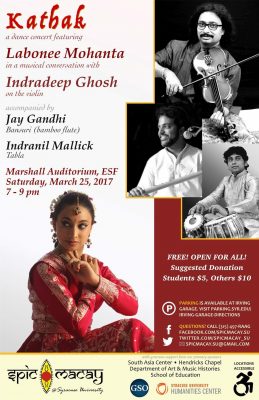 A dance concert featuring the Indian classical dance form, Kathak will take place 7pm, this Saturday, March 25 in Marshall Hall at SUNY ESF. The classical concert will feature dancer Labonee Mohanta.
The event is organized by the Syracuse University chapter of SPIC MACAY, (Society for the Promotion of Indian Classical Music and Culture Amongst Youth), an international nationwide movement designed to promote Indian classical music and culture. Additional support for the concert comes from the College of Arts and Sciences and the Humanities Center.
The event is free and open to all and visitors can park at the Irving Garage. For more information and any questions about the event, visit the SU SPIC MACAY Facebook page, contact spicmacay.su@gmail.com or SU SPIC MACAY undergraduate president Abhiram Sishtla, at asishtla@syr.edu .
Kathak is a classical dance form from North India. Kathak performances depict stories from Indian mythology, and include abstract dance elements with a focus on footwork set to complex rhythmic patterns. Mohanta's performance will be an immersive experience that will include storytelling and mythology while displaying technical aspects of Kathak dance.
Mohanta is known worldwide and began her training at 8 years old under the tutelage of renowned Kathak maestro Pandit Chitresh Das.
Saturday's event will also feature musicians Indradeep Ghosh on the violin, Jay Gandhi on the bamboo flute (bansuri) and Indranil Mallick on tabla.
Additionally, both Mohanta and Mallick will present a lecture and demonstration from 2:15 to 4:15 p.m., Friday, March 24 at the Women's Building dance studio. The two-hour session, which is free for SU and ESF students, will introduce participants to the art of Kathak.