Campus & Community
Institute on Communication and Inclusion Hosts April 6 Drumming Workshop Led by Performer Jim Donovan
The Institute on Communication and Inclusion at Syracuse University (ICI) invites campus and local community members to participate in a high-energy evening of drumming and musical expression with renowned performer and educator Jim Donovan. Regardless of musical experience, cultural background or disability, drum circles help people connect with each other through the universal language of rhythm.
Donovan will lead the community drumming workshop on Thursday, April 6, from 5:30 to 7 p.m. at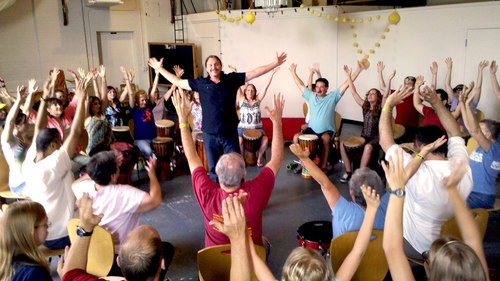 Skybarn, 151 Farm Acre Road, on South Campus. The cost is $10 per person or $25 per family, and drums and other rhythm instruments will be available for use. Pre-register online here. While there will be specific attention to strategies for supporting individuals on the autism spectrum, this event is for anyone who wants to make collective music or support others that do.
"I've been coming to the Syracuse region since my days with Rusted Root back in the '90s. I love how receptive people in the region are to trying new things—especially when it comes to using music for things beyond entertainment," Donovan says. "I'm looking forward to sharing what I know about how rhythm helps people with ASD."
Donovan is an assistant professor at Saint Francis University and an inspirational performer and educator who believes in the power of music to bring people together. Over the past three decades, Donovan has performed thousands of concerts and learning events across the United States and Europe. As a performer, Donovan writes and records with his rootsy groove-rock band Sun King Warriors. As an educator, he brings his motivating brand of openhearted, big-energy, truth-telling to every event he leads—whether it be a conference keynote, corporate team building, educational training or wellness retreat.
Donovan got his start as a founding member of the three-time platinum '90s band Rusted Root, where he co-wrote and performed "Send Me on My Way," a song whose unforgettable whistle has been featured in the films "Matilda" and "Ice Age." During his touring work with Rusted Root, he shared arena stages with rock legends such as Carlos Santana, The Grateful Dead, members of Led Zeppelin and Sting, among others.
Donovan is the author of the book "Drum Circle Leadership" and regularly offers training to organizations that teach people how to lead group music-making as a way to support wellness and social connection. These events include evidence-based programs for people who work with individuals with disabilities and with those who work in recovery.
For more than 20 years, the Institute on Communication and Inclusion has been giving a voice and a means to communicate to people with disabilities who may have otherwise been living in silence or isolation by conducting research and promoting support for people with disabilities to communicate in schools and society. The ICI is an active research institute and the nation's leading resource for information about supported typing. The ICI provides training at all levels and multi-platform public access to the most up-to-date information about supported typing.