Campus & Community
CitrusTV and Daily Orange to Co-sponsor Student Association Debate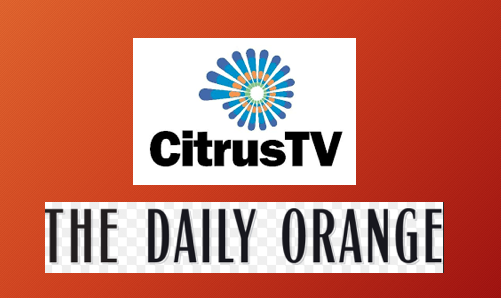 CitrusTV and The Daily Orange are partnering to produce a special, live, one-hour event that will feature Student Association presidential candidates debating issues important to students, such as campus life, resources, safety, outreach and student programming. It's Sunday, April 2, at 7 p.m. in the Joyce Hergenhan Auditorium in Newhouse 3. The debate is open to all Syracuse University students and will also be broadcast live on channel 14.1, the Orange Television Network, and streamed online at CitrusTV.com and DailyOrange.com.
"We're extremely excited to bring this event back," says Nick Ross, general manager of CitrusTV. "It's been nearly four years since CitrusTV sponsored an event such as this one, and we think it's important to give students a way to hear from those who will be serving them once in office."
CitrusTV's Alex Amico and The Daily Orange's Michael Burke will moderate the debate. During the program, audience members can submit questions for the candidates via Twitter using the hashtag #SADebate. Questions may also be submitted in advance. All questions, either live or submitted in advance, will be asked by CitrusTV's Meghan Mistry throughout the show.
"As the governing body of more than 14,000 undergraduate students, Student Association plays an important role on the Syracuse University campus," says Justin Mattingly, editor in chief of The Daily Orange. "The president and vice president of SA are two of the most notable student leaders on campus. And given that, we felt it was necessary to provide an outlet for debate as part of the upcoming elections. We're excited to partner with CitrusTV to ensure the debate reaches all interested parties."
Doors will open at 6:30 p.m., and the debate will last until 8 p.m. For additional information, contact CitrusTV General Manager Nick Ross at nross@citrustv.com.