Campus & Community
Better Accessibility Achieved in Orange SUccess
In fall 2016, Syracuse University rolled out Orange SUccess, a centralized advising system, to the whole campus after a largely successful pilot. The goal was to improve communications between students and their faculty and/or advisors, and streamline the process of advising across the University's schools and colleges.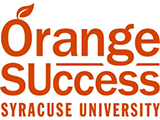 Feedback from most users of the system has been positive. Since its inception, more than 10,000 appointments between students and their advisors/faculty have occurred. Faculty have raised 19,140 flags and 21,439 kudos in support of 12,611 unique undergraduate students.
Administrators say one of the major accomplishments of the initiative is how the University has worked closely with the vendor to ensure accessibility for all.
"Accessibility and inclusion are part of the fiber of Syracuse University, and that fiber must carry through to the information and communication technology that is provided to all campus constituents," says Sam Scozzafava, vice president for information technology services and chief information officer. "Removing barriers to access, in all forms, must be a priority for all of us." A draft University-wide policy on information and communication technology, shepherded by the Workgroup on Diversity and Inclusion, is being vetted at open forums in the campus community.
Starfish Retention Solutions was chosen as the platform for Orange SUccess because it provided the best combination of usability and features, says Scozzafava. "Starfish was selected after a review of its accessibility," he says, "but there were some exceptions on the VPAT–the voluntary product accessibility template–that the vendor was still addressing."
"The adaptations that had to be made to improve accessibility have taught us a great deal about the importance of humility, patience and collaboration in everything that we do, as well as about the applicability and relevance of the principles of Universal Design for Learning," says Kal Srinivas, director of retention in the Office of the Associate Provost for Academic Affairs.
"We knew it was critical to develop a partnership and process with Hobsons (Hobsons, Inc. is now the owner of the Starfish Retention Solutions system) that would allow us to continue to move forward with the system implementation and adoption, but also work together to eliminate remaining accessibility issues," says Scozzafava. "We've found Hobsons to be a great partner. They have been very transparent about their product development methodology, and they have welcomed our input into issue identification and prioritization. It has truly become a partnership."
Scozzafava emphasizes the importance of establishing an ongoing process for ensuring the accessibility of this system, as well as other systems around the University. "Many systems we deploy are large, complex, multi-module systems. As vendors continue to add new features and upgrades, new accessibility issues and other difficulties can arise," he says. "These systems are dynamic, and thus can never be considered 'done.' A highly accessible system today could have a problem with accessibility in its next release. Establishing and maintaining a long-term process with our software and service providers is the best insurance we have toward achieving and sustaining our accessibility goals."
Much has been learned through the implementation of the system and the ensuing work in ensuring its accessibility, Scozzafava says. "We have learned, without a doubt, that not all technology service and/or system providers are created equal. I would classify Hobsons as a model citizen in regards to their responsiveness and willingness to partner with Syracuse."
Scozzafava and Associate Provost for Academic Affairs Jeffrey Stanton have submitted a proposal to present at the October 2017 EDUCAUSE Annual Conference. Titled "Enabling Accessibility for Cloud-Based Systems: From Contracts to Consortia," their presentation describes the University's experience with making improvements to Orange SUccess and other systems.
"One goal we have is to use the EDUCAUSE platform to gauge interest amongst our peers to combine forces and emphasize to vendors that higher education campuses want and need their information technology partners to be more like Hobsons, or run the risk that they are left behind as more and more campuses strive for accessibility for all," Scozzafava says.
The Orange SUccess team is committed to providing periodic updates to the University community on the system's accessibility as well as training materials and other information. Accessibility updates appear can be found here.