STEM
Become a Cyberwarrior at Syracuse University This Fall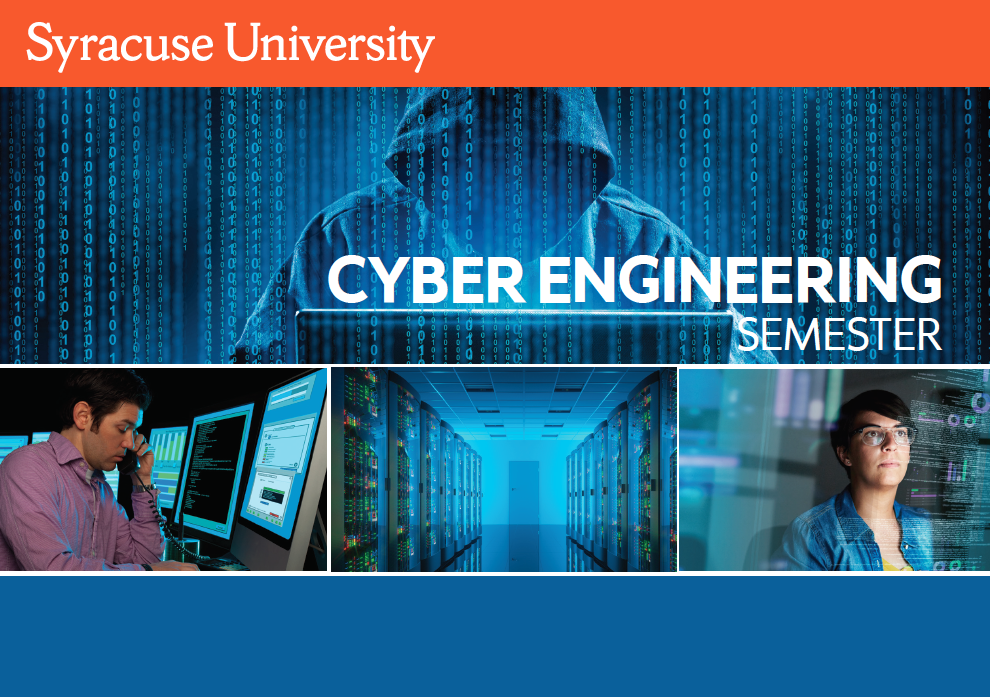 The nation's defense depends on more than boots the ground, planes in the skies and ships in the seas. Today's threats require servicemen and women with the skills to protect from devastating cyberattacks on computing networks and infrastructure.
This fall, the Cyber Engineering Semester (CES) returns to Syracuse University. Designed by the College of Engineering and Computer Science and the Office of Veteran and Military Affairs, the CES educates computer science and computer engineering students to become cyberwarriors. In a single, 18-credit semester, students will learn to identify and analyze system vulnerabilities, assess risks, develop countermeasures, build and verify secure systems, and deliver software that has verifiable assurance properties.
"Students in the CES learn the theory, tools and practices to formally verify the security and integrity of operations. This capability is the basis for assuring missions in cyber-physical space," says Shiu-Kai Chin, professor of electrical and computer engineering in the College of Engineering and Computer Science. "There is no other program like this in the nation. It is one important reason why Air Force Research Laboratory partners with SU in offering the CES."
The CES consists of a core course load, electives and professional development. Core courses include CIS 400: Certified Security by Design, CSE 484: Introduction to Computer and Network Security, and CIS 487: Access Control, Security, and Trust. Electives are tailored to individual student needs and interests. Professional preparation includes an internship and leadership development.
Students must be seniors or juniors in a computer science or computer engineering undergraduate program with an appropriate level of prior coursework and a GPA of 3.3 or higher. They must also have experience with Discrete mathematics, programming experience in a high-level language and familiarity with Linux at the command-line level. It may also require a U.S. citizenship or permanent resident status to be eligible for internship opportunities, an optional part of the program.
Applications will be accepted until 11:59 pm EST on Sunday, April 30. To apply, please send the following in a single PDF file to cyberengineering@syr.edu:
resume
unofficial college transcripts (including transfer credits)
a 100-word biography (include hobbies, interest and goals) with a recent head-shot photograph
A letter of recommendation from an academic advisor or faculty member must also be sent to  cyberengineering@syr.edu directly from the reference by the deadline. For ROTC cadets, a letter of reference from ROTC detachment leadership is also acceptable.
To the extent possible, admission decisions will be made on a rolling basis.