STEM
Astronaut to Visit Maxwell on International Women's Day
The International Relations Program of the Maxwell School of Citizenship and Public Affairs will host Col. Pamela Melroy on International Women's Day, as she describes her leadership experiences as a space shuttle commander and discusses the future of human spaceflight.
The astronaut, test pilot and senior executive will speak from approximately 4 to 5:30 p.m. Wednesday, March 8, in 220 Eggers Hall. She will be introduced by former NASA Administrator Sean O'Keefe, who is University Professor and the Howard G. and S. Louise Phanstiel Chair in Strategic Management and Leadership at the Maxwell School.
"When I was a little girl, and I decided I was going to be an astronaut, there was no doubt in my mind that I was going to command a spacecraft someday," says Melroy.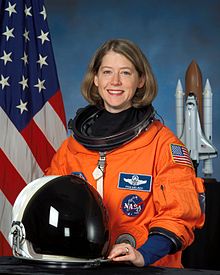 Melroy began her career as a U.S. Air Force pilot, serving in Operations Just Cause and Desert Shield/Storm and eventually logging over 6,000 flight hours on 50 different kinds of aircraft. After her selection into the NASA astronaut program, Melroy piloted two space flights and in 2007 became the second woman to command the Space Shuttle.
Her three missions, totaling over 38 days in space, were essential to the assembly of the International Space Station. After retiring from the Air Force in 2007, Melroy held senior leadership positions at the FAA's Office of Commercial Space Transportation and at DARPA, where she served as deputy director of the Tactical Technology Office.
A reception in Strasser Commons will follow the lecture. CART will be provided. Learn more about Col. Melroy at www.AstronautPamMelroy.com and use #WeBelieveInAstronauts or tweet at @Astro_Pam to connect with her on social media.