Campus & Community
Arden Cho Named Speaker for AAPI Heritage Month Commemorative Lecture
The Office of Multicultural Affairs (OMA), in partnership with Lambda Phi Epsilon Fraternity, Inc., welcomes actress, model and singer-songwriter Arden Cho to speak at the 2017 Commemorative Lecture, a part of Asian American and Pacific Islander (AAPI) Heritage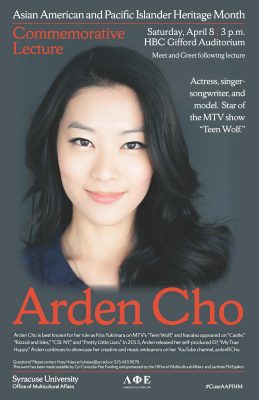 Month.
Cho, best known for her work as Kira Yukimura on "Teen Wolf," has also appeared on "Castle" and "Pretty Little Liars." She also released her self-produced EP, "My True Happy," in 2013 and regularly showcases her music on her YouTube channel, ardenBCho.
"Arden is a wonderful, well-rounded speaker to welcome for AAPI Heritage Month," says Huey Hsiao, associate director in OMA and chair of the AAPI Heritage Month planning committee. "While building a successful career in the entertainment industry, she has also been an important voice for Asian American and Pacific Islander communities by sharing the challenges faced and misperceptions of these identities in entertainment and broader society.  I think Arden will really add to the whole experience of AAPI Heritage Month."
The AAPI Heritage Month Commemorative Lecture is Saturday, April 8, at 3 p.m. in Huntington Beard Crouse Hall's Gifford Auditorium. A meet and greet with Cho will follow the lecture.
AAPI Heritage Month is a national celebration each May during which Asian Americans and Pacific Islanders are honored for their history and enrichment in American history. The University observes and celebrates AAPI Heritage Month in April so that all students, faculty and staff can participate before the conclusion of the semester.
Throughout the month, the University will hold a variety of events intended to educate the University community about challenges facing Asian Americans and Pacific Islanders, as well as celebrate their rich cultures and long history.
For more information on AAPI Heritage Month or the Commemorative Lecture, visit the OMA website or contact Hsiao at huhsiao@syr.edu.