Arts & Culture
Woody Register on 'The Muckers': Lecture, Book Signing and Seminar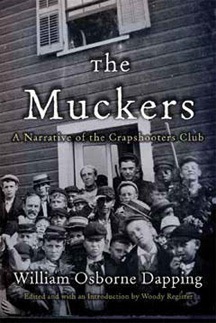 Historian Woody Register will give a talk and reading from his book, "The Muckers: A Narrative of the Crapshooters Club," on Thursday, March 2,  at 4:30 p.m. in the Hillyer Room on the sixth floor of Bird Library. Register will also give a seminar on March 3 from 10 a.m. – noon on working with archives and how he uncovered this historic find.
Published by Syracuse University Press, "The Muckers" is a first-person account of a young 19th-century gang member in New York City. Register discovered the manuscript while conducting research in the Special Collections Research Center at Syracuse University Libraries. The original manuscript was written by William Osborne Dapping, who would go on to become a respected Central New York journalist, winning a Pulitzer Prize for his coverage of a 1929 prison riot for The Auburn, N.Y., Citizen-Advertiser.
Woody Register is chair of the Department of History and directs the American Studies Program at the University of the South (Sewanee), where he teaches post-Civil War U.S. history.
Additional information on "The Muckers" can be found in Register's Syracuse University Magazine article.‌
The lecture is open to the public; however, there is limited space available for the seminar. R.S.V.P. to jschambe@syr.edu.