Business & Economy
Whitman School Professor Appointed Editor-In-Chief of Entrepreneurship Theory and Practice Journal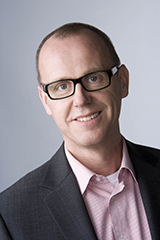 Johan Wiklund, the Al Berg Chair and professor of entrepreneurship at the Whitman School, will transition to the role of editor-in-chief for Entrepreneurship Theory and Practice, the second most influential journal in the field of entrepreneurship. His appointment begins Jan. 1, 2018.
Wiklund, who also serves on the editorial boards of the Academy of Management Journal and the Journal of Business Venturing, is considered a leading authority in entrepreneurship research with more than 50 articles appearing in leading entrepreneurship and management journals.
"Johan is among the most well respected entrepreneurship scholars in the world," says Alex McKelvie, department chair and associate professor of entrepreneurship and emerging enterprises. "Given his many years of thoughtful leadership in conducting innovative entrepreneurship research, mentoring junior scholars, and acting in editorial roles at multiple journals, it seems like a natural next step for him to be named editor-in-chief at ETP."
Wiklund's research interests include entrepreneurship and mental health, as well as the performance, growth, exit and failure of entrepreneurial firms. In 2015, he was honored with the Greif Research Impact Award. Given annually by the Greif Center for Entrepreneurial Studies at the University of Southern California, the award recognizes an entrepreneurship paper that appeared in the top-tier management and entrepreneurship journals six years ago and received the highest citations (based on the Social Sciences Citations Index) in the five years following publication.
The Entrepreneurship and Emerging Enterprises (EEE) department at the Whitman School includes some of the most prolific researchers in the field of entrepreneurship today. Over the past year, the faculty and doctoral students have published 31 papers in top-tier journals and presented 23 more at leading international conferences.
From the growth of new ventures to psychology to sustainability to public policy, the research of the EEE department spans numerous entrepreneurship topics. It also explores new research areas, such as resilience, crowd funding and mental health.
"In addition to Professor Wiklund, several of our faculty members develop and edit special issues of journals and participate on journal editorial boards," McKelvie says. "What's more, we see frequent citations not only in academic debate but also in industry publications, such as Fortune, Forbes, Inc. magazine and Bloomberg BusinessWeek. We're influencing the field of entrepreneurship on a global level."