Health & Society
WAER Offers Rich Black History Month Lineup
WAER, the commercial-free, listener-supported radio station at Syracuse University, will be offering a host of programming this February in honor of Black History Month. The programs range from being music-centric to documentary storytelling.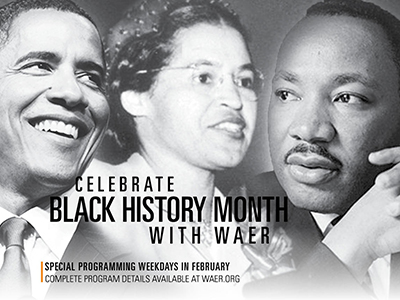 Today from2-3 p.m., the station will air "Sound Opinions: Music of the Civil Rights Movement." Professional music critics Jim and Greg will discuss influential and game-changing music from the 1960s that provided a soundtrack to the civil rights movement. They will analyze tracks by artists like Sam Cooke, the Staple Singers, Bob Dylan, Nina Simone and more.
"Blue Note Sound" will air on Thursday, Feb. 2, at 8 p.m. So much of what is considered as straight ahead jazz was shaped by the Blue Note Sound. As host Jim Luce explains, in the mid-20th century producer Alfred Lyons brought a diverse group of musicians into the studio to conceive, compose and make jazz records without compromise.
From Tuesday, Feb. 7, through Thursday, Feb. 9, at 2-3 p.m., in the program "Making Oprah," Oprah Winfrey will take WAER listeners behind the scenes of her iconic TV talk show, along with help from producers, staffers, TV executives and ratings rival Phil Donahue. The three-part series chronicles the show's scrappy roots in Chicago, its rise to daytime dominance and the powerful sway Winfrey came to have in American life.
"Raw Truth: An MLK Tribute" will air on Feb. 9 at 8 p.m. The Boston Children's Chorus presents its annual Martin Luther King Jr. Tribute Concert, recorded live at New England Conservatory's Jordan Hall.
On Tuesday, Feb. 14, from 8-9 p.m., "Going Black: The Legacy of Philly Soul Radio" will examine the legacy of Black radio, focusing on the legendary WDAS in Philadelphia. The story of Black radio in Philadelphia is actually the story of Black music, of civil rights and progress in the African-American community, and of how the radio medium has changed in the last century.
"Love Train: The Sound of Philadelphia" will air on Wednesday, Feb. 15, from 8-9 p.m. This one-hour radio special hosted by Jeff Foxx explores the story of Philadelphia International Records, as well as its impact on the future of music through stories and music from many of its artists, as well as Kenny Gamble and Leon Huff
A Beautiful Symphony of Brotherhood is a musical journey in the life of Martin Luther King Jr. and will be heard on Feb. 16 at 8 p.m. In this hour-long special from WQXR and WNYC, host Terrance McKnight interweaves musical examples with King's own speeches and sermons to illustrate the powerful place that music held in his work and examines how the musical community responded to and participated in King's cause.
From Feb. 21-23 from 2-3 p.m., WAER will air "Historically Black." Objects hold history and evoke stories stamped in time. The Smithsonian's new National Museum of African American History and Culture in Washington, D.C., has opened up a world of stories that visitors are flocking to discover. To mark the September 2016 opening of the museum, The Washington Post invited people across the country to submit photographs of objects in their family that connect them personally to black history. "Historically Black" reveals intimate and surprising aspects of history through interviews, archival sound and music.
The last of WAER's Black History Month Programming will air on Friday, Feb. 24, from 3-4 p.m. In "Black Like Me: The Michelle Obama Documentary," Valley Fontaine explores why Michelle Obama is so important to black women around the world. Fontaine hears frank, funny and intimate insight from both men and women about the phenomenon known as "shade-ism" or "color-ism," where people face discrimination both outside and within the Black community on the basis of their skin tone.