Campus & Community
Tuesday Is Last Chance for Faculty and Staff to Register for Smart Fuel Challenge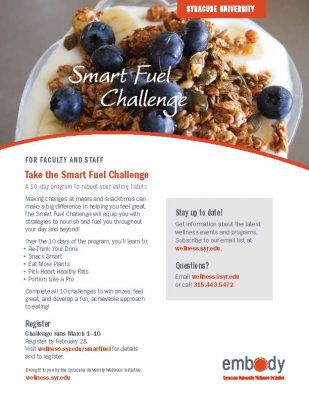 Registration deadline for the 10-day Smart Fuel Challenge is Tuesday, Feb. 28, at 3 p.m. Register here.
The Smart Fuel Challenge (March 1-10) offers participants an opportunity to reboot their eating habits. Making small changes at meals and snack time can make a big difference in helping one stay energized and feel great.
Participants will receive "Today's Challenge" in their email each day. Complete one of the strategies or tips, and do a daily check-in via an online form.
Faculty and staff who complete all 10 challenges will win a prize. To learn more and view the completion prizes, head here.
The Smart Fuel Challenge is presented by the Syracuse University Wellness Initiative. Questions? Email wellness@syr.edu or call 315.443.5472.