Media, Law & Policy
Thaler Pekar '85 Presenting 'Why and How True Stories Matter' Thursday at Newhouse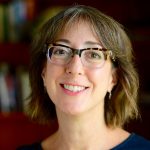 In a loud, complex and data-saturated media landscape, true stories matter more than ever. Thaler Pekar '85 will discuss why the ability to spot, structure and share stories is crucial to success as a professional communicator and present different ways to use story throughout one's work and career.
Her talk, "Why and How True Stories Matter," is Thursday, Feb. 23, at 6:30 p.m. in the Joyce Hergenhan Auditorium, Newhouse 3.
Pekar is an internationally recognized pioneer in the field of organizational narrative, leadership storytelling and persuasive communication. She has been recognized by the BBC and the Smithsonian Institution as an expert on business storytelling, and the United Nations High Commissioner for Refugees has institutionalized the use of her Telly Award-winning video on LGBTI refugees in South Africa.
Pekar began her communications career combining her Newhouse education with her passion for social change and issue advocacy. Her curiosity, quest for truth and desire to help clients achieve strong results has led her progression from public relations to political organizing; from public affairs to values-based communication; and from finding and sharing stories to applying the powerful tool of story throughout organizations.
For more information, contact Betsy Feeley at 315.443.7401 or eafeeley@syr.edu.