Arts & Culture
Sharif Anael-Bey to Speak for Sankofa Lecture Series
The Office of Program Development and the Office of Multicultural Affairs (OMA) are hosting author Sharif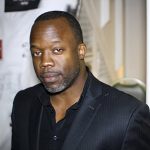 Anael-Bey '95 for the Sankofa Lecture Series. His presentation—"Black History Month Relevant?"—is Monday, Feb. 27, at 6 p.m. in the Peter Graham Scholarly Commons, Room 114, in E.S. Bird Library.
The following day, Tuesday, Feb. 28, the Sankofa Student Talk will take place at 6 p.m. in the same location, with students discussing research they have conducted.
The Sankofa Lecture Series began last year as part of the University's Black History Month celebration. It features a Syracuse graduate of African descent discussing his or her accomplishments and career path after graduation.
An alumnus of the College of Visual and Performing Arts, Anael-Bey is a leader in the field of Moorish-American history and represents the Syracuse area in the Moorish Science Temple of America. In addition, he represents Moorish Americans on the InterFaith Works Round Table of Faith Leaders, while also chairing its Faith Partners Committee.
Anael-Bey presents publicly on diverse topics ranging from development, testing and deployment of bioweapons to the Transatlantic Slave Trade. He is the spokesperson for Operation Proclamation, which focuses on education initiatives in urban areas, and he is the founder of a spiritual training program called Unified Field Fitness. Anael-Bey also represents upstate New York for Yee's Hung Ga International Kung Fu Association and opened a branch in Syracuse.
"We were excited about the success of last year's Sankofa events, so we're pleased to bring it back this year," says Cedric T. Bolton, OMA coordinator of student engagement. "Bringing such accomplished alumni of color back to campus is a great experience for our students, especially in honor of Black History Month."
For more information on the lecture, contact Bolton at ctbolton@syr.edu.