Arts & Culture
Prisca Dorcas Mojica Rodriguez to Speak Tonight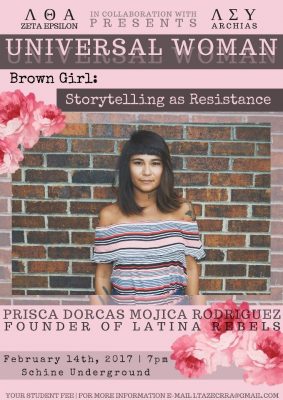 On Feb. 14, the Zeta Epsilon chapter of Lambda Theta Alpha, in collaboration with Lambda Sigma Upsilon, is hosting an event titled "Universal Woman—Brown Girl: Storytelling Through Resistance." The event will begin at 7 p.m. in the Schine Underground and will feature Prisca Dorcas Mojica Rodriguez, the founder of Latina Rebels.
Latina Rebels centers around the empowerment and celebration of Latina women and culture. The social activist organization posts frequently to its followers using social media like Twitter, Facebook, Instagram and Tumblr.
Other performances, such as spoken word pieces, will also be a part of the Universal Woman event. Tickets are free and available at the Schine Box Office.