Health & Society
National Eating Disorders Awareness Week: Shattering the Stigma of Eating Disorders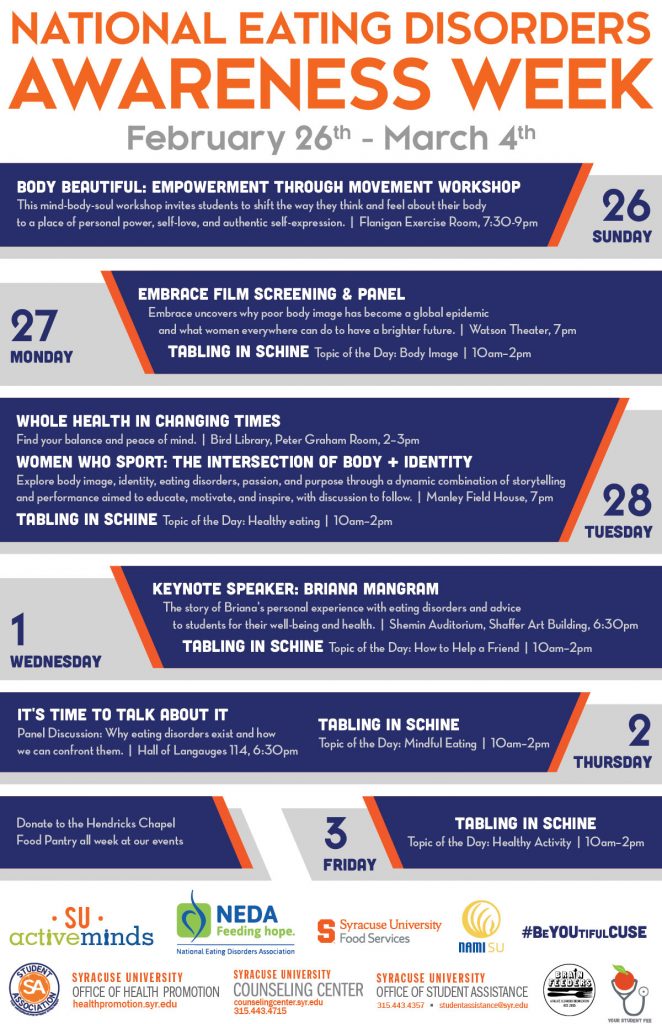 From Feb. 26 to March 4, Syracuse University is taking part in National Eating Disorders Awareness (NEDA) Week, an initiative of the National Eating Disorders Association that shines the spotlight on eating disorders and puts lifesaving resources into the hands of those in need. This year the theme is "It's Time to Talk About It."
This year's theme highlights the importance of busting the myths and getting the facts on eating disorders. That's why one of the key events includes speaker Briana Mangram, who will speak about her own experiences with eating disorders and provide advice to those who have eating disorders. Mangram will be speaking on Wednesday, March 1, at 6:30 p.m. in Shemin Auditorium in the Shaffer Art Building.
For Anna Song, a senior in the College of Arts and Sciences, raising awareness about eating disorders is part of cultivating a healthy campus environment. "As students, we place a huge amount of pressure on ourselves," she says. "Due to many reasons—from lack of time, to feeling stressed, anxious, depressed, to the desire to have fit or societally 'approved' body shapes, or even feeling guilty to eat—a number of us have unbalanced diets and nutrients that can harm our bodies in the long run and may directly impact our bodies."
For Song, who is also president of the National Alliance on Mental Illness (NAMI) SU, NEDA is a personal mission. As someone who struggled with an eating disorder, she would like to be supportive of every student who struggles from a similar issue.
Kristelle Aisaka, the Office of Health Promotion's specialist focused on mental health, agrees. "National Eating Disorders Awareness Week is a way to start impactful conversations across campus not only about eating disorders specifically, but also about body image, healthy eating, mental health and peer-to-peer support more broadly," Aisaka says. "Eating disorders commonly arise between the ages of 18 to 21, which makes it especially relevant for some of our students here on campus."
Food insecurity can also impact, and be impacted by, healthy eating habits and other health behaviors. To help combat these potential issues, throughout NEDA Week faculty, staff, students and other community members are invited to drop off food and/or toiletry item donations for the Hendricks Chapel Food Pantry during tabling in the Schine Student Center and at all NEDA Week events.
This year's NEDA events are made possible by a diverse group of partners, including Active Minds, Brainfeeders, the Counseling Center, the Department of Psychology's Psychological Services Center, Food Services, Health Services, NAMI-SU, the National Eating Disorders Association, the Office of Health Promotion, the Office of Student Assistance and the Student Association.
For a list of all the week's events, check out the National Eating Disorders Awareness Week calendar.