Campus & Community
Football Trailblazer Bernie Custis Passes Away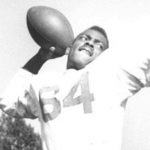 (From Cuse.com) HAMILTON, ONTARIO, CANADA – Syracuse University football letterwinner Bernie Custis passed away yesterday, according to the Canadian Football League's (CFL) Hamilton Tiger-Cats, the team for which he made his pro football debut in 1951. Custis, widely considered to be the first black quarterback of the modern era, was 88.
"We are saddened to learn of the passing of Bernie Custis," said Syracuse Director of Athletics John Wildhack. "Bernie was a true pioneer. Widely considered to be the first black quarterback in modern professional football, he opened doors and paved the way for countless others who may otherwise not have gotten an opportunity.
"At Syracuse, he starred on Ben Schwartzwalder's early teams, helping lay the foundation for one of the golden eras of Orange football. Bernie's accomplishments and courage should be celebrated by all. Syracuse University extends its deepest condolences to the Custis family for their loss."
Custis played for the Orange from 1948-50. During an era when teams predominantly ran the football, Custis became the first SU player to record a 1,000-yard passing season, throwing for 1,121 yards in 1949. He finished his three-year college career with 2,617 yards and 12 touchdown passes.
In 1951, Custis was drafted sixth overall by the Cleveland Browns, who wanted him to play safety. He instead signed with Hamilton and became the Tiger-Cats' starting quarterback on Aug. 19, 1951. He started every game at quarterback that season. Custis moved to running back the following year and in 1953 helped the Tiger-Cats capture the Grey Cup. He ended his career with the Ottawa Rough Riders as a running back in 1955 and 1956.
Custis later became a coach, most notably with the Burlington Braves of the Canadian Junior Football League, where he won three Ontario championships and two Eastern Canadian titles.
A 1977 Syracuse Letterwinner of Distinction, Custis was inducted into the CFL Hall of Fame in 1998.
For complete coverage of Syracuse University Athletics visit Cuse.com.