Campus & Community
Coming Back Together Student Co-Chairs Selected
Planning for the Office of Program Development's Coming Back Together (CBT) 2017 reunion, held every three years and due this September, is well underway. As anyone who has attended will tell you, the preparation involved is significant because it includes multiple offices, schools and colleges, and partners as activities take place at venues across the campus, not to mention the numerous volunteers who are vital to a successful multi-day program.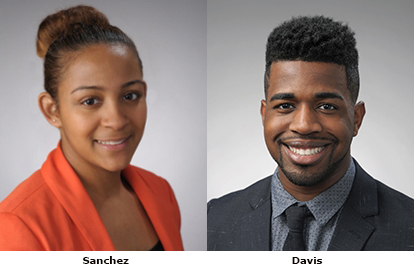 There is, however, a more recent role added to the lead-up to the reunion, and that is the participation of two Our Time Has Come Scholars (OTHC) as CBT student co-chairs. This year, Malcolm-Ali Davis '18 and Leslie Sanchez '18 have been selected as student ambassadors.
"I have so many great memories of attending CBT as a child, and it was just this magical event that I always wanted to be a part of, so to now have that opportunity to be a student co-chair and help out with CBT—it's very special to me," says Davis.
Currently a junior, Davis is an information management and technology major in the School of Information Studies and is the most senior chair of the University Conduct Board. He is also a member of the Student Affairs Advisory Board, Student Philanthropy Council, a peer advisor for the School of Information Studies and the tennis captain for 'Cuse Crew. "One of the main reasons why I wanted to take this role on is because my generation of students lacks knowledge about what CBT is, and how important it is for our community," says Davis.
"The reunion is a great occasion for current students to network with Syracuse Alumni," says Sanchez '18. A student manager for the women's basketball program, part of the women's basketball club and member of the IT Girls organization, Sanchez is a junior and an information management and technology major  in the School of Information Studies, minoring in finance.
Sanchez says she knew very little about CBT when she was a freshman. "I was present for the last CBT as a freshman and performed with a dance group called Citrus Sweethearts, but I didn't know much more about it. My former dance teammates didn't know much either, which is unfortunate because it was a great opportunity that we let pass by."
So too has the Program Development office seen this need to build awareness among the student population about the reunion and all that it offers current students. This is why student co-chairs are selected to serve as CBT ambassadors to their peers. The co-chairs will assist the office by talking with other students, speaking at the meetings of student organizations as well as arranging one-on-one conversations with student leaders across campus.
"As the Office of Program Development often states, CBT was the first reunion of its kind in the country, and we are indebted to the visionaries that thought to start it and those that have fought to keep it going," says Davis. "At a time when physical interactions are on the decline due to social media, mobile devices, etcetera, I think it's pertinent to get the current students to 'buy in' to CBT while they are still here, because that makes it a lot easier to get them to come back after they've left the university."
"We are so excited that Leslie and Malcolm agreed to be our student co-chairs for this CBT reunion," says Angela Morales-Patterson, assistant director of alumni and donor engagement for the Office of Program Development. "This is only the second reunion where we have included students in the early stages of our marketing and promotion of the event. Both of our co-chairs were being modest, because it is an honor in itself to be an OTHC Scholar and a requirement to even be considered as a CBT co-chair."
OTHC Scholars come from across the country and their majors span campus. This select group of alumni of color have an average GPA of 3.6 and, as part of their scholarship, they commit to volunteering on campus and in the Syracuse community.
"When you are an Our Time Has Come Scholar you know you are in good company because of the standard of excellence that was set by previous scholars, and the donors that make it all possible," says Davis.
"Historically, many students from African American and Latino communities lack in opportunities and resources that can prevent us from reaching our full potential, who we want to become, which acts as a barrier to success," says Sanchez '18. "This is why the Our Time Has Come Scholarship is a great opportunity for our community."
"Definitely apply," says Davis as an urgent message to current Latino and African American students. "To me, the Our Time Has Come Scholarship means achievement, excellence and community. It is a wonderful program that connects you to like-minded individuals at Syracuse University and distinguished Black and Latino alumni. It's an opportunity you do not want to miss out on!"
Coming Back Together 2017 takes place Sept. 14-17, so go ahead and register today, even if you are a current student.