Campus & Community
Actor Derek Luke Speaking Wednesday as Guest of Kappa Alpha Psi Fraternity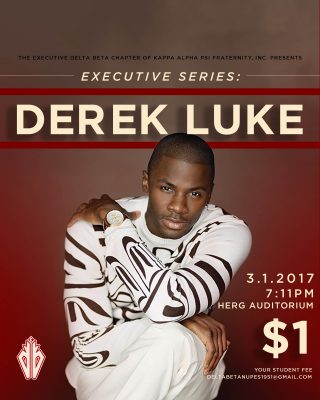 Derek Luke, star of the critically acclaimed film "Antwone Fisher," will speak on Wednesday, March 1, at 7:11 p.m. in Joyce Hergenhan Auditorium, Newhouse 3, as guest of Kappa Alpha Psi Fraternity, Inc.
Tickets—$1 for students and the general public—are available at the Schine Box Office.
Luke's other film credits include "Baggage Claim," "Captain America: The First Avenger," "Catch a Fire," "Definitely, Maybe," "Friday Night Lights," "Glory Road," "Madea Goes to Jail," "Miracle at St. Anna," "Notorious," "Sparkle" and "Supremacy."
Most recently, Luke appeared in the remake of the television miniseries "Roots" as Silla Ba Dibba, Kunta Kinte's uncle. He has also had roles in "The Americans," "Empire," "Hawthorne" and "Trauma." And he has starred in the DirectTV series "Rogue."
For more information, contact Malik Evans at mtevans@syr.edu or Cairo Spencer at caspence@syr.edu.