Business & Economy
Women in Sports and Events Hosts Feb. 19 Panel on Careers in Sports
Women in Sports and Events (WISE) will host "Shoot for Success: WISE Women in Sports," a pre-game panel discussion on Sunday, Feb. 19, at 2 p.m. in the Carrier Dome. Organized in collaboration with Syracuse University Athletics, the panel discussion will take place before the SU women's basketball team tips off against Notre Dame at 5 p.m.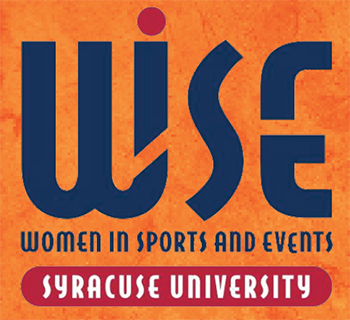 Designed for women interested in pursuing professional careers in sports and events, the event will feature helpful how-to guidance and personal experiences from panelists on leading a successful career in sports. Guest panelists include:
Boston Celtics Group Ticket Sales Manager Chrissy Cronin
Boston Celtics Director of Marketing Kara Hutchinson
ESPN Women's College Basketball Analyst Gail Goestenkors
ESPN Coordinating Producer Kate Jackson
ESPN Play-by-Play Announcer Pam Ward
NCAA Director of Business Operations for Women's Basketball Tracie Hitz
"It is so important to show young women that they can compete and be successful in sports, especially when it is such a male-dominated industry," says sport management major and WISE president Paige Serra '17. "We wanted to gather a group of female leaders and successful individuals together to have them share their experiences, teach us about smart business practices and inspire us to compete to be the best for the job, regardless of gender. Having an event like this will not only help the members of WISE, but it will also encourage community members in attendance to think about a path that they might not have previously considered."
For more event information, and to register, contact sport management internship coordinator and WISE co-advisor Nicole Imbrogno, at nfimbrog@syr.edu. There is no cost to register for the event, but guests must have an SU women's basketball game ticket to attend. To purchase game tickets, visit www.cuse.com/tickets (Syracuse University students are free with SUID).
The Syracuse University chapter of Women in Sports and Events—the first collegiate chapter in the nation established in Falk College's Department of Sport Management in 2009—includes women from all majors interested in pursuing careers in sports and events. The organization, which meets on Tuesdays from 6-7 p.m. in 441 Falk, promotes professional development and civic engagement.
The group's activities planned for the spring 2017 semester include traveling to the University of Connecticut for its Sports Business Conference Jan. 28 and co-hosting a Power Hour Career Panel with regional National Association of Collegiate Women Athletics Administrators (NACWAA) members Feb. 7. Last fall, WISE hosted a "Dress for Success" outing to Destiny USA, where retailers provided tips on dressing for interviews. Members also participated in Trick-or-Treat for UNICEF benefiting the United Nations Children's Fund, and attended Syracuse University Women's Basketball's "Women in Business Night."
"WISE as a national organization is a strong network of accomplished women across the country, so having a student chapter is a fantastic networking tool for our students that are involved in the organization as well as a great model to emulate its mission locally on campus," says Imbrogno. "It also provides our young women the opportunity to lead, create, plan and execute tangible events and activities to gain real-life work experiences to take with them into their professional careers."