Health & Society
Winston Fisher '96 Tackles Mammoth Marathon Challenge
Winston Fisher '96 is proving once again that he will go to great lengths of physical endurance to support the organization founded by his family that assists military veterans known as the Intrepid Fallen Heroes Fund. Already, Fisher has competed in a 3,000-mile cross country bike race (Race Across America) in support of the fund. On Jan. 23, he'll embark on a journey that will cover a lot of territory in the name of testing his abilities while raising money for a worthy cause.
"I enjoy the challenge," says Fisher. "The enormity is inherently what draws me to it."
Enormity is a good way to describe the athletic feat in which Fisher will take part. It's called the World Marathon Challenge. In the course of seven days, Fisher will take part, as a member of Team Extreme, in seven marathons. That means running more than 183 miles in seven days. But it doesn't stop there. Each marathon will take place on a separate continent. Basically, Fisher will spend a total of 168 hours either running or in a plane flying to the next location.
"The travel in between is probably the hardest part of this," according to Fisher. "I think it would be hard enough to run a marathon each day and then go home and sleep in my own bed. I'm not. I'm getting on a plane and sleeping on a plane. There's time zone changes. The recovery factor is hard, there's the pressurization of a plane."
Winston Fisher '96 competing in a recent Iron Man competition.
The first marathon (26.2 miles) takes place in Antarctica. After the race, Fisher and his fellow racers board a plane and fly to Chile. There, they run another marathon. Hop on a plane. Fly to Miami. Run another marathon. On to Spain, Morocco, Dubai and finally Sydney, Australia.
"The pain is what gives it so much satisfaction," Fisher says.
Fisher has taken part in Ironman competitions in the past, but ran his first marathon just last October. Lately he's been in training, which includes running the loop at New York's Central Park. A personal trainer has helped Fisher to increase his strength, flexibility and most importantly, stamina.
The cause that motivates Fisher was founded nearly 17 years ago. In that time, the Intrepid Fallen Heroes Fund has provided $120 million to support veterans of wars in Afghanistan and Iraq and their families through death benefits; the construction of the Center for the Intrepid, a $55 million physical rehabilitation center at Brooke Army Medical Center in San Antonio; and the National Intrepid Center of Excellence and the Intrepid Spirit Centers.
"We have a high success rate when it comes to treatment, rehabilitation and especially in helping veterans with traumatic brain injuries. "All the money raised goes toward building and operating the centers." says Fisher. "We're proud of that track record."
Fisher is also proud of his alma mater, and says qualities that define people who bleed orange, in part being gritty and scrappy, are strengths and qualities of success. He says his Syracuse experience in part is what gives him the strength and drive to compete in an event of this nature.
"I hear a lot from people who say, 'I couldn't do that,'" says Fisher. "Of course you could. You can do anything you want. The best thing Syracuse can have is grittiness, we need to be scrappy and gritty to succeed. You have to be able to say, 'I can do it.' You take a weakness and make it a strength. Our point is to kick butt, and that's what I intend to do."
Make a pledge to Team Extreme.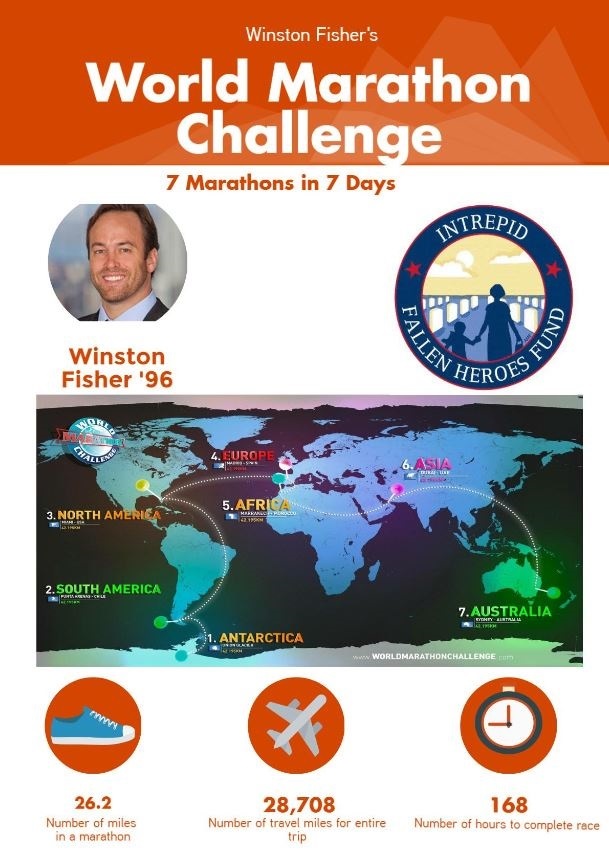 (Click image to enlarge)