Campus & Community
Volunteers Sought for Martin Luther King Jr. Day of Service
Donation drive underway to collect warm coats, blankets, non-perishable food, formula, diapers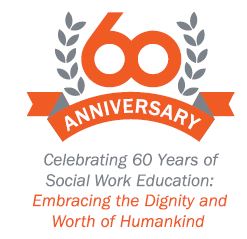 In recognition of the 60th anniversary of the School of Social Work in Falk College, the Syracuse University community is invited to participate in the Martin Luther King Jr. Day of Service that will take place Monday, Jan. 16, from 9 a.m. to noon at the Syracuse Model Neighborhood Association, 401 South Ave. Assistance is needed to sort and pack boxes of clothing and to prepare sandwiches for delivery to the Samaritan Center. Drivers and vehicles are also needed to deliver food and clothing.
"In celebration of our 60th anniversary, we thought it was fitting to engage in service activity on a day that most people view as a day off. Our Day of Service is instead a 'day on,' allowing students, faculty and staff to engage with the greater community in a way that is meaningful, tangible and fits with the philosophy of Dr. King," says Professor Keith A. Alford, director of the School of Social Work. "For our students, this event brings into focus that academe is more than laptops, lectures and exams. Without a doubt, our students will see the significance of believing in the dignity and worth of humankind. This is a core value of the social work profession that our program instills in its courses and field work."
As part of the Day of Service efforts organized by the School of Social Work and Falk College in collaboration with the Greater Syracuse Labor Council/AFL-CIO and the United Way of CNY, a donation drive is currently underway. Donations of winter coats, jackets, warm blankets, non-perishable food, formula and diapers are now being accepted and can be dropped off at the Social Work office at 244 White Hall before Jan. 16, or at the Syracuse Model Neighborhood Association on January 16 (the day of the event) from 9 a.m. to noon.
"The Martin Luther King, Jr. Day of Service is a day meant to move us closer to Dr. King's vision of a beloved community," says Deborah Ducett, director of field instruction in the School of Social Work and one of the event organizers. "We look forward to putting words into action and serving our community by collecting needed clothing and items for the greater Syracuse area."
For more information, and to sign up for volunteer service, please call the Social Work offices at 315.443.5550 by Jan. 12, or contact Deborah Ducett (dmducett@syr.edu ) or Adrienne Renfroe (alrenfro@syr.edu).