Arts & Culture
Pulitzer Prize-Winning 'Disgraced' to Play at Syracuse Stage
After the phenomenal success of "Disney and Cameron Mackintosh's Mary Poppins," Syracuse Stage switches gears and turns on a powerful and explosive drama as the Pulitzer Prize-winning play "Disgraced" opens on Jan. 27 in the Archbold Theatre at the Syracuse Stage/SU Drama Complex, 820 E. Genesee St.  Preview performances are Jan. 25 and 26.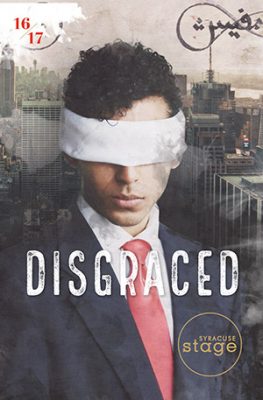 Written by Ayad Akhtar, "Disgraced" is one of the most discussed American dramas in recent years. Confronting head on the personal and social fracturing of the post-9/11 landscape, the play creates urgent connections between the world depicted on stage and the world outside our doors. In the tradition of the greatest dramas, it is a play that raises hard questions and presents points of view that demand further discussion.
May Adrales directs "Disgraced" at Syracuse Stage. She has helmed two previous productions at the theater, "Chinglish" (2014) and "In the Next Room, or the vibrator play" (2015), and recently scored a success in New York with Qui Nguyen's "Vietgone" at Manhattan Theatre Club.
"'Disgraced' is a citizen's piece," Adrales said. "It makes you want to do or say something to express your point of view. It's enlivening. I think we need more of that kind of theater."
"Disgraced" is set in 2011, ten years after the 9/11 attacks. At the center is Amir Kapoor, a successful young attorney with a seemingly perfect life. He and his artist wife, Emily, who is about to have a major exhibition of her work, have a coveted New York apartment and he is on track for partnership in his high-powered firm. Their lives, however, are sent careening off the rails by a series of events, some of which relate to Amir's identity as a Muslim and a Pakistani-American.
Adrales sees "Disgraced" as a play very much of the current political moment. The divisions that opened in the aftermath of 9/11 have worsened, she believes, which gives the play a great sense of urgency. "We have to be able to reach across the aisle and reach across the table and talk to people who have opposing views, and the play crystallizes how difficult that is," she says.
Encountering such difficulties on the stage, though, is what makes theater powerful and worthwhile for her. "I enjoy theater that challenges me and challenges me to think in a different way," she says. "I think the theatricality of 'Disgraced' is how it makes me question why I think the way I do. What are the influences that are affecting me and how do I project myself in the world because of the values I have. And so it is deeply meaningful to me to see the show. And that's the experience I want the audience to have."
Wherever "Disgraced" has been produced, it has inspired discussion. Syracuse Stage will be offering talkbacks with the audience following most performances. Discussion participants will include members of the Central New York community, Syracuse Stage staff and members of the cast.
 "Disgraced" is also part the Syracuse Symposium 2016-2017: Place, sponsored by the Syracuse University Humanities Center. Following the 2 p.m. matinee on Sunday, Jan. 29, the theater will host a panel discussion, "Place and Displacement: Staging Diverse Cultural Geographies in American Theater." The panel features Christian DuComb, assistant professor of English and Theatre at Colgate University; Gail Hamner, professor of religion, Syracuse University College of Arts and Sciences; Clea E. Hupp, associate professor and chair of the history department at the University of Arkansas at Little Rock; and Emad Rahim, endowed entrepreneur-in-residence at Oklahoma State University and visiting scholar at Rutgers University.
 "Disgraced" runs through Feb. 12. Tickets are available in person at the Box Office, by phone, 315.443.3275 or online at www.syracusestage.org.