Campus & Community
Alumni Association Announces New Cities for 'Orange Advantage' Events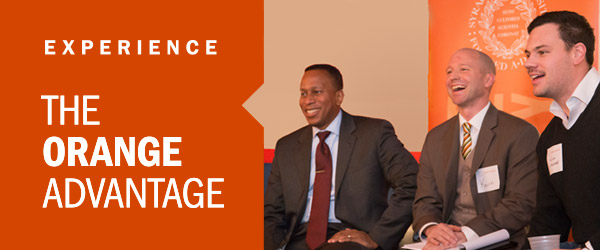 The Syracuse University Alumni Association will continue the "Orange Advantage" professional development series with stops in 11 cities during the winter and spring of 2017.
Syracuse University boasts a vast network of more than 250,000 alumni worldwide. Many graduates rely on this strong and connected network to advance their careers.
Conducted in partnership with the University's Career Services office and alumni clubs across the country, the Orange Advantage demonstrates the immense value of a Syracuse University degree and the willingness of Syracuse alumni to help out fellow Orange graduates through a series of interactive workshops.
The first workshop in the event series—True Colors—is an interactive session led by Career Services staff members.
True Colors comes to Portland (Jan. 10), San Diego (Jan. 12), Denver (Feb. 8) and Houston (March 21). Participants in Portland and San Diego will also have the opportunity to sign up for one-on-one career counseling sessions aimed at improving interview and resume techniques.
Lauren Levine '10 attended the first-ever Orange Advantage event in Charlotte on Sept. 27.
Levine, who runs a radio station for Galaxy Communications, hoped to learn more about how her personality related to the personalities of the different people she manages, which includes charismatic DJs and on-air personalities, as well as salespeople.
"I learned I have one of the less common personality types, and this experience helped me become more efficient in my leadership position," says Levine, who is looking forward to attending the second Orange Advantage Charlotte event planned for April.
"It was great to really sit down and process how different people learn and handle feedback. This forced me to take a step back and take a good, hard look at how I approach my employees," Levine says.
The True Colors sessions, which cost $10 per participant, include networking opportunities over food and beverages as alumni learn about different career possibilities related to their own personality styles.
"This was a dynamic program in every respect. I learned how to relate to True Colors characteristics in myself and others, which will undoubtedly enhance my self-awareness and my social interactions," says Nina Sikand '79, who attended a session in Rochester, N.Y. on Oct. 26.
"I really enjoyed the True Colors program. It was a different approach to personality and job development. Breaking out into smaller groups allowed for good interaction between attendees, which encourages people to attend more alumni events in the future. It was a fun and engaging activity," adds Susan Hughes '79, who also attended the Rochester event.
For alumni in cities that participated in the True Colors sessions during the fall semester, the Orange Advantage returns with additional professional development programming in Charlotte, N.C. (April 4), Raleigh, N.C. (April 6), Chicago, Ill. (April 11), Detroit, Mich. (April 13), Buffalo, N.Y. (April 17), Rochester, N.Y. (April 18) and Albany, N.Y. (April 19).
For more information about the Orange Advantage events, visit http://www.syr.edu/alumni/events/orangeadvantage.html.