Campus & Community
2018 Senior Class Marshal Applications Due Jan. 27
Each year, Syracuse University designates two rising seniors to lead their class as the all-University student representatives for Commencement. Applicants must be current undergraduate students graduating in May 2018.  The deadline to apply is Friday, Jan. 27.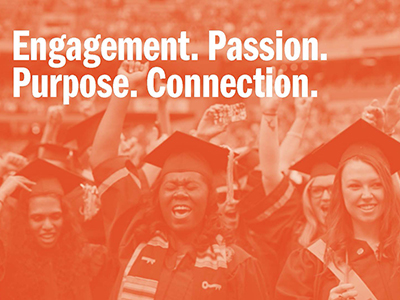 Senior Class Marshals play a significant role as student leaders throughout their senior year. In addition to leading the Commencement procession, these students meet with senior-level administrators to share and offer feedback on their student experience, participate in networking events, serve as representatives at University-wide events and recommend speakers for their Commencement ceremony.
"Being a Senior Class Marshal has meant having the opportunity to proudly represent my class and the passion and ingenuity that define us. It's about thanking the people at this university and my family and friends for helping me grow intellectually, civically and spiritually. It feels like a collective honor," says Rachel Brown-Weinstock, a senior in the College of Arts and Sciences and the Maxwell School of Citizenship and Public Affairs and Class of 2017 Senior Class Marshal.
Applicants must submit a completed online application form, an essay and an official SU transcript.  Two recommendation letters are also required. Staff and faculty are also invited to nominate May 2018 graduates for this honor using the Senior Class Marshal online nomination form.
"Senior Class Marshals exemplify the spirit of their class, demonstrate academic excellence and are engaged and involved students on and off campus," says Colleen O'Connor Bench, associate vice president in the Division of Enrollment and the Student Experience. "We encourage our May 2018 graduates to consider applying for this honor, and invite campus community members to nominate students who represent these qualities."
2017 Senior Class Marshal Nedda Sarshar, a senior in the College of Arts and Sciences and the Maxwell School, shares this advice for any Class of 2018 student applying: "Think of everything that you have gone through during your time at SU.  All the ups and downs, the lessons you've learned, the changes that you've gone through. Your job is to pour that into your application. There is no right answer—only your experience and your legacy. Don't worry about it being competitive, or about the interview—this is about showing how much you love your school and what you want to do with that love."
For more information, visit the Senior Class Marshal website.  Questions can be directed to 315.443.9153 or ahumphre@syr.edu.