Arts & Culture
Writers to Discuss Mentoring at Thursday Event
The Department of Writing, Rhetoric and Composition's Nonfiction Reading Series, the English Department and the creative writing program will co-sponsor a reading with former M.F.A. students Annie Liontas and Jeff Parker, editors of the book "A Manner of Being: Writers on Their Mentors" on Thursday, Nov. 17 from 3:30-5 p.m. in 500 Hall of Languages.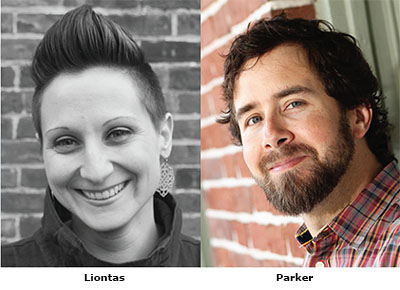 The event is free and open to the public and CART transcription will be provided.
The book is a collection of essays by well-known writers on their experiences of mentorship by other well-known writers. The collection is sure to appeal to undergraduates and graduate students devoted to building a life centered on writing, as well as to writing instructors and professors who grapple with questions of how best to mentor such students.
What do the punk singer Henry Rollins; the Guatemalan writer Rodrigo Rey Rosa; the American authors Tobias Wolff, Tayari Jones and George Saunders; the Canadian writer Sheila Heti; and the Russian poet Polina Barskova have in common? At some point they all deeply studied the art of writing with someone. The nearly 70 short essays in "A Manner of Being," by some of the best contemporary writers from around the world, pay homage to mentors—the writers, teachers, nannies and sages—who enlighten, push, encourage and sometimes hurt, fail and limit their protégés. There are mentors encountered in the schoolhouse and on farms; in New York City and in M.F.A. programs; mentors who show up exactly when needed, offering comfort, a steadying hand, a commiseration, a dose of tough love.
This collection is rich with anecdotes from the heartfelt to the salacious, gems of writing advice and guidance for how to live the writing life in a world that all too often doesn't care whether you write or not. Each contribution is intimate and distinct—yet a common theme is that mentors model a manner of being.
Liontas' debut novel, "Let Me Explain You" (Scribner), was featured in The New York Times Book Review as Editor's Choice and was selected by the ABA as a 2015 Indies Introduce Debut and Indies Next title. Liontas was the 2016 Visiting Writer at UCDavis. Her work has appeared in The New York Times Book Review, BOMB, Guernica, Ninth Letter and Lit.
Parker is the author of several books, including "Where Bears Roam the Streets: A Russian Journal" (Harper Collins), the novel "Ovenman" (Tin House), and the short story collection "The Taste of Penny" (Dzanc). He is the Director of the DISQUIET International Literary Program in Lisbon and he teaches in the M.F.A. program at the University of Massachusetts Amherst.