Campus & Community
How Student Voters on Campus Can Prepare for Election Day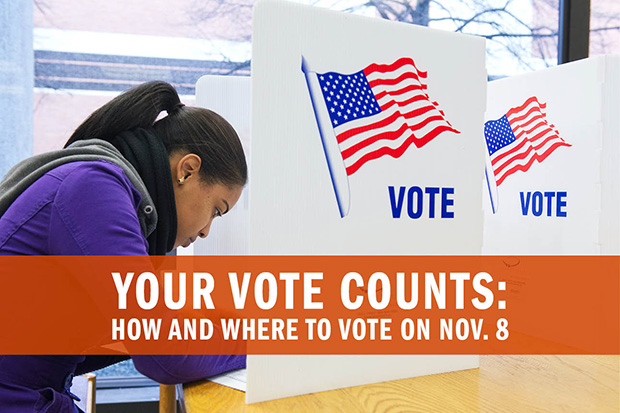 With Election Day quickly approaching, here's a quick breakdown of how and where to vote on campus.
Registration
If you're registered to vote in Syracuse, New York, it's critical to check your voter registration. Students can visit https://voterlookup.elections.state.ny.us, enter in the required information and see your polling location and political party, if applicable. If there are further questions about registration and more, students can contact the Board of Elections at 315.435.VOTE.
Under New York State law, citizens can only vote Tuesday, Nov. 8, if already registered to vote in New York State. The deadline to register in New York State, has already passed, and registration isn't open on Election Day. If registered and planning on voting in New York or any other state by absentee ballot, students should mail that ballot as soon as possible. In New York, absentee ballots must be postmarked by Nov. 7.
Where to Vote
Voting locations are based on students' addresses (what they put down on their respective voter registration forms). It's important to understand the different voting locations because not all students will be voting in the same place. For students who live on-campus, here's where to cast your vote:
Voting at Huntington Hall: Booth, DellPlain, Ernie Davis, Haven, Kimmel-Marion, Shaw, Walnut, Washington and Watson.
Voting at Toomey-Abbott: Brewster/Boland/Brockway, Day, Flint, Lawrinson and Sadler
Voting at Drumlins: Sky Halls and South Campus
Lyons Hall votes at Ed Smith School, corner of Lancaster Avenue and Broad Street.
Unlike in past years, Bird Library is no longer a polling place. It has been replaced by Huntington Hall.
Student Association has worked to secure the opportunity for students to be bused to and from the polls.
"The Student Association believes that civic engagement should be a top priority for every student at Syracuse University. We are excited to provide transportation on Election Day in an effort to support this belief," says Eric Evangelista, president of Student Association.
Buses will be running from noon-9 p.m. on two routes:
The first route will run from Day Hall Circle to Flint Hall Circle, then to Irving Avenue (southbound) at Raynor, then to the Van Buren bus shelter, to the Toomey Abbott Circle at Toomey Abbott Apartments. Then it will return to the first stop.
The second route will run from Goldstein Student Center Circle on South Campus to Drum Country Club and back.
Accessibility
For students using the free transportation to go to the polls, one of the buses is wheelchair accessible. Drivers will communicate to one another when a student needs the service of the wheelchair accessible bus.
Onondaga County election officials have confirmed the accessibility of the voting machines and polling places. Accessibility measures include the following:
Paper ballots that can be enlarged for individuals with low vision.
A sip and puff, flat-panel device for individuals who are quadriplegic or have no use of limbs.
Braille keyboard enabled devices with headphones. Voters can listen to the candidate choices and use the keypad to select their choice. When finished, a ballot will be printed. It will be printed in such a way that observers will not be able to see the voter's choices.
If a voter needs assistance at any time, an election worker is onsite and standing by.
Further information on voting rights and accessible voting can be found at the League of Women Voters website.
Where to Watch Results
Even after casting your ballot, Election Day isn't finished until the results are announced. Orange After Dark, organized by the Office of Student Activities, is hosting an Election Viewing Party beginning at 8 p.m. in Schine Dining. Students can snack on some patriotic-themed food while watching the results come in. The event is free for students with their SUID, no tickets required.