Media, Law & Policy
Faculty and Students on Voting and the Results of the 2016 Election
Citizens voted yesterday for the 45th president of the United States. Donald J. Trump won the presidency after running a combative contest with his rival Hillary Clinton, who was the projected favorite to win.
Several faculty members who have been studying the election offered their initial reactions to the surprising news.
Clues in Social Media
Jenny Stromer-Galley, professor in the School of Information Studies who oversees the collaborative research project Illuminating 2016, which tracks social media for the presidential candidates.
"Social media follower rates may be a useful indicator of overall popularity and potential electoral success. Trump led Clinton in overall followers on Twitter and on Facebook through the entire election. Moreover, his messages were more likely to spread on social media than Clinton's.
"On Trump's Facebook account, we found that people were more likely to leave messages of support for Trump than to attack him. On Clinton's Facebook wall, people were as likely to attack her as support her.
"On Twitter, there was substantially more talk that referenced Trump or that used his campaign hashtag (#MAGA) than that which referenced Clinton or her hashtag (#Imwithher) through the general election season—with a few notable exceptions, such as her first debate performance and the last week of the campaign.
"The message matters. Donald Trump communicated on social media and on the campaign trail in ways that resonated with a majority (or a near majority, depending on whether Clinton takes the popular vote, which some projections suggest she might, but will lose the Electoral College vote). As we have seen before (2008, for example), the candidate with the resonating message wins. Social media helps amplify that."
The Democratic Party's Upsetting Defeat
Grant Reeher, professor of political science and director of the Campbell Public Affairs Institute in the Maxwell School of Citizenship and Public Affairs
"For at least half the country, the unthinkable has apparently been thought. Hillary Clinton may have just presided over the worst defeat for the Democratic Party in its history. Were Trump supporters hiding from the pollsters, or not telling the truth? The reset that the Republican Party was expected to confront in the aftermath falls to Democrats. Looking at both the state and national levels, Democrats have now lost everything—the Congress, White House, Supreme Court, and a majority of state legislatures and governor seats."
Free Speech During the Election
Roy Gutterman, associate professor and director of The Tully Center for Free Speech in the Newhouse School of Public Communications
"Perhaps no election in our lifetime has tested the First Amendment more than this. With questions of access to the candidates and to government institutions, the discussion of changing libel laws and other reprisals on the press, this campaign and the candidates could foreshadow some real concerns for First Amendment values. Neither candidate showed much respect for the free press."
The Markets' Reactions to Donald Trump's Win
Tom Barkley, director of the MS in Finance Program and professor of finance practice in the Whitman School of Management
"Global markets are down at this point, and US markets will open lower, about 1.5 percent to 2.0 percent lower. Financial markets respond to news that they perceive will affect the value of traded assets. I think the concern at present is due to Mr. Trump's perspectives on foreign policy, where many countries around the world are likely to see the US take a tougher stance on trade. On the other hand, I believe that the long-term domestic policies will benefit US growth, as Mr. Trump's administration will be pro-business and is likely to reduce corporate (and personal?) taxes. Although I don't think that this rebound will happen inside just a few days, I do believe that the markets will adjust, and there will be long-term growth.
"As for shifts in the marketplace in general after an election, this is not uncommon. Whenever new information arrives in the marketplace resolving pent-up uncertainty, there will always be jumps in prices, up or down, as investors seek to re-evaluate their positions given that new information. I believe the forecast was for more favorable outcomes in the immediate term had Mrs. Clinton won, but now that is only speculation as to what might have been."
Mary Lovely, professor of economics at the Maxwell School
"The markets reacted strongly and negatively overnight but will moderate within the week. Longer term risks are larger as the new president's policies are revealed over the next half year.  There is a very real risk of a trade war and another global recession."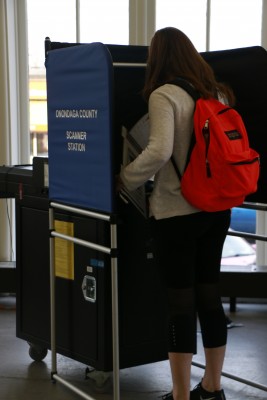 Students' Perspectives
For many Syracuse University students, this was the first time for them to vote in a presidential election. After voting, a few shared their reactions to the election and the process of voting as a student.
Lucas D'aversa, Falk College of Sport and Human Dynamics, Sophomore
"I am not really excited and hope we had different candidates to vote for. But I still cannot avoid voting when I am of age as it is my duty as an American citizen. As a first time voter I was very confused about the process and did not have my name registered but with a little help, I was able to get around things comfortably."
Anthony Gomez, College of Engineering and Computer Science, Freshman
"I thought it was a well-organized and smooth process. I just had to show my I.D. and was able to vote. I was not very well-informed and as a dual citizen I was a little confused about the elections and government processes. I am here and excited to vote."
Mathew Nigro, College of Engineering and Computer Science, Freshman
"I am disappointed with the candidates and hoped we had someone who was more morally upright to vote for. Both the candidates are submerged in scandals and none of them are fit to be president in my opinion. The good part about voting here was that there were hardly any lines. People were friendly and amiable and guided me through the process."
Alison Eartley, College of Arts and Sciences, Sophomore
"I am shocked that these are our candidates and was hesitant in voting for the longest time. However it is my civic duty and so I came forward to vote. None of the candidates deserve to be president in my opinion and as a citizen I do not trust their intentions. It took me a good while to decide who I was going to vote for."
 Aishwarya Nag Choudhury assisted with the story.