Arts & Culture
University Union Brings Comedian Chris D'Elia to Campus
University Union has announced that comedian Chris D'Elia will be headlining the first Performing Arts stand-up show of the year. The show will take place on Saturday, Oct. 29, at 8 p.m. during Family Weekend in Goldstein Auditorium. Tickets cost $10 for students/faculty, $15 for families and $20 for the general public. They can be purchased in person at the Schine Box office or online at boxoffice.syr.edu. Students can only purchase tickets in person, and families/public can only purchase online. Students can buy three per student ID in person, and families can purchase six at a time online.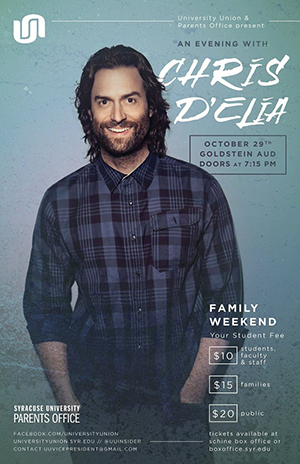 D'Elia is quickly becoming one of the most sought-after comedians and actors in the comedy world. Residing in Los Angeles, D'Elia starred as Danny on the NBC series "Undateable," which centered around a group of friends who lived in Detroit and helped each other figure out their lives.
On stage, D'Elia continues to cement his status as a force in standup comedy, with Variety magazine naming him one of its "Top 10 Comics to Watch." His latest standup special, "Incorrigible," debuted on Netflix in April 2015. Additionally, D'Elia could be seen on the dais of the highly anticipated "Roast of Justin Bieber," which premiered in March 2015 on Comedy Central.
D'Elia is also a regular at Hollywood comedy clubs, where he performs multiple times a week. Additionally, he recently completed his first multi-city standup comedy tour, "Under No Influence," which brought him to over 30 cities across the United States and Canada. In December 2013 he  released his first one-hour standup comedy special, "White Male. Black Comic," on Comedy Central.
Previously, D'Elia starred opposite Whitney Cummings on NBC's multi-camera comedy series "Whitney." He has also appeared on Comedy Central's "Workaholics," TBS's "Glory Daze," Showtime's "Live Nude Comedy," "Late Night with Jimmy Fallon" and "Comedy Central Presents."