Campus & Community
University Celebrates Food Day 2016 with Third Annual New York Campus Crunch
This Thursday, Oct. 20, university and college students, faculty and staff from 26 schools across New York State will participate in the third annual New York Campus Crunch by taking a collective bite out of apples grown on New York State farms, demonstrating support for serving locally grown food. The goal of the New York Campus Crunch is to support local agriculture. Syracuse University supports this mission through initiatives of our sustainability department, Food Services practices and purchasing policies.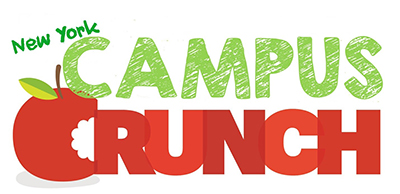 Anyone who wants to participate in the crunch at Syracuse University can get a free apple in front of the Schine Student Center from noon-1:30 p.m. If it rains, the crunch will be held in the Schine Food Court. Otto will be there to share the fun!
We will be keeping track of crunches through social media. Participants should take a selfie when crunching into their apple, then post to Facebook or Instagram using the hashtags #NYCampusCrunch, #suapplecrunch. If you can't make it to the event at noon, crunch into an apple at any time during the day, take a selfie and post.
The New York Campus Crunch is organized by the Farm to SUNY initiative to increase the purchase of New York-grown vegetables and fruit products by SUNY campuses. Farm to SUNY is a partnership between American Farmland Trust, Farm to Institution New York State (FINYS), the SUNY Office of Sustainability and four pilot campuses: University of Albany; SUNY New Paltz; SUNY Oneonta and SUNY Oswego.
This campus event is sponsored by: Food Services, Healthy Monday, the University's Wellness Initiative and the Sustainability Division. Apples have been donated by Beak & Skiff and Syracuse Banana.