Arts & Culture
SU Press Book Wins Canadian Jewish Literary Award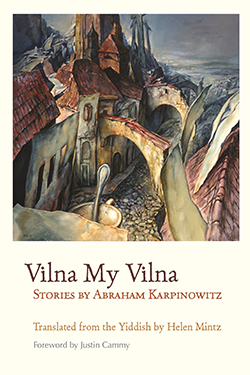 The Syracuse University Press book "Vilna My Vilna: Stories" has been selected as one of the eight outstanding books chosen to receive the Canadian Jewish Literary Award for 2016. "Vilna My Vilna" was selected in the Yiddish category.
"Vilna My Vilna: Stories" by Abraham Karpinowitz,  a translation from the Yiddish by Vancouver translator Helen Mintz, is a portrait of the Jerusalem of Lithuania. The stories of fishwives, cobblers, criminals and roustabouts preserves the particular language of Vilna's working-class Jews. In this deft depiction of a now-vanished world, Mintz gracefully maintains the colorful idiomatic Yiddish for English language readers.
The Canadian Jewish Literary Awards was founded by a group of prominent writers, editors and scholars to celebrate the vibrancy of Jewish literature and culture in Canada.
"Vilna My Vilna" was also selected as the Winner of the "2016 Translation Award for a Book on a  Jewish Theme" awarded by the J.I. Segal Committee of the Jewish Public Library in Quebec. The J.I. Segal Awards of the Jewish Public Library are made possible by the J.I. Segal Cultural Foundation, founded by the late Dr. Hirsh Rosenfeld and Dvora Rosenfeld. They were established in 1968 to honour and perpetuate the memory of the great Yiddish-Canadian poet J.I. Segal and to foster Jewish cultural creativity in Canada.