Campus & Community
New Guide Highlights Student Activities, Opportunities on SU Mobile App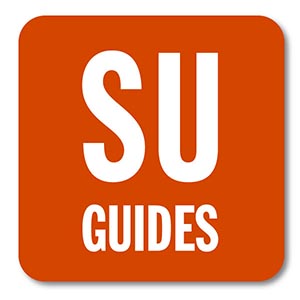 As part of the University's mobile app, Syracuse University Mobile, the SU Guides feature now has a new Activities and Involvement Guide. Last year, offices across campus used the Guidebook mobile app to create guides to offer students a mobile resource to find information. The Activities and Involvement Guide is where students can find organizations, clubs, events, programs and opportunities that range from one-time events to on-going commitments.
Some of the guide's features include:
an events calendar with upcoming events from all over campus. Students can add events to their personal calendars and ask Guidebook to remind them 15 minutes before the event starts;
a searchable list of student organizations and clubs organized by categories, with descriptions and links to their website or OrgSync pages; and
sections dedicated to mentoring, leadership and service programs, as well as honors and awards that students can apply for.
"After gathering input and guidance from students, we are excited to add the Activities and Involvement Guide to the offerings available on the mobile app," says Shannon Andre, student affairs communications manager. "This guide, and the others to follow, are ever-evolving, and we encourage campus community members to contact us with suggestions and content that can be added so this can be as useful and comprehensive as possible."
To access the Activities and Involvement Guide in the SU mobile app, click the SU Guides icon and download the Activities and Involvement Guide. The Activities and Involvement Guide is also available online. When accessing the SU Guides, users can also view the other University guides available.
If you do not have the Syracuse University mobile app, visit the iTunes App Store or the Google Play Store and search for Syracuse University Mobile. Once in the app, click the SU Guides icon to begin the Guidebook app download and view the available guides.
This is the first of four guides to be launched by the Division of Student Affairs aimed at providing students with information specific to their needs in one central place. The remaining guides will be launched throughout the 2016-17 academic year.
For more information or to provide feedback and ideas, contact studentaffairs@syr.edu.