STEM
iSGO Presents Symposium: Women in Information Management
The iSchool Student Graduate Organization (iSGO) is hosting a free symposium on Monday,  Oct. 10, which will feature a panel of five women representing prestigious organizations that include IBM, EY and Charter Communications. These influential women will be speaking on their experiences as women working in male-dominated fields. This is an opportunity for students to hear stories and lessons from women breaking ground in technology and information management, and for them to inspire the young women here to do the same.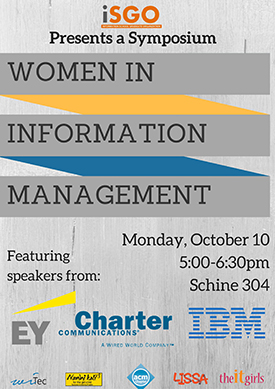 The event will take place from 5-6:30 p.m. in 304 ABC Schine Student Center.
Panelists for the event include:
Alia Shah, IBM

Shah is a senior engineer with IBM's System and Technology group in Poughkeepsie, New York, where she recently assumed the role of Nest Verification Lead. She received a B.S. in electrical engineering and a M.S. in industrial administration from Union College in 1981 and 1987, respectively. She joined IBM in 1981 as a logic designer for mainframe systems and then took a position in hardware verification in 1984. In 1985, she left IBM to raise a family. During her time away from IBM, she became a certified secondary math and physics teacher and ran a pre-school. She rejoined IBM in 1998, and has worked on various aspects of IBM's zSeries verification since that time. Her primary focus has been on cache and memory controller pre-silicon verification. She is the author of one patent in the field of error and recovery testing.
Alexandra Echegaray, IBM

Echegaray is a chip hardware physical design (PD) engineer for IBM Systems in Poughkeepsie. Since joining IBM in 1999, she has had various PD responsibilities on different chips, as well as leading and managing various systems PD projects.
Echegaray holds a B.S. in electrical engineering with a concentration in VLSI design and a minor in American Sign Language from the University of Rochester. She then obtained a M.S. in electrical engineering while working at IBM from the Walden University in 2003. Echegaray also participates in community service programs such as IBM National Engineers Week and IBM EXploring Interests Technology & Engineering Camp (EXITE), which helps to influence young kids, especially girls, to acquire an interest in STEM fields.
Sarah Morris, University of Texas at Austin

Morris is a learning and assessment librarian at the University of Texas at Austin, and founder of Nucleus Learning Network in Austin, Texas. She is also an information professional with a decade of diverse experience working as an educator and program coordinator in museums, libraries, schools and higher education environments. Morris has developed and managed STEAM and digital literacy programs for learners ranging from elementary school students to college students, and has created and administered trainings for diverse groups of educators.
In 2014, Morris co-founded Nucleus Learning Network, a nonprofit dedicated to supporting, connecting and empowering learners, educators and mentors interested in strengthening Austin's innovative learning community. Bringing her thorough knowledge of the intersection of information, tech, education and the nonprofit industries to Syracuse University, Morris can speak on current trends in empowering young women in the information field and how to create effective partnerships in your community in order to make this possible.
Sudhira Chavan, Ernst & Young (EY)

Chavan is a senior in EY's Forensic Technology and Discovery Services (FTDS) practice and is based out of New York. With a focus on data analytics, she has served clients in several different industry sectors, including financial services, life sciences and retail. Apart from client engagements, she also helps manage the recruiting efforts for the New York office and has led several practice development initiatives. Chavan graduated from Syracuse University in 2012 with a master's in information management.
Nomi Bergman, Advance Newhouse Communications

Bergman is a senior executive officer in the Advance/Newhouse companies. Previously, she served as president of Bright House Networks until its recently completed merger with Charter Communications and Time Warner Cable. Bright House Networks, headquartered in Syracuse, was one of the leading cable companies in the United States. Bergman also serves on the corporate boards of publicly held Cable ONE Inc. and Visteon and privately held 1010data and Mediamorph. She has spent more than 25 years in the cable industry.
Bergman has been actively involved with Women in Cable Telecommunications (WICT), CableLabs, NCTA and SCTE on technology issues. She was recognized by WICT and SCTE with the Women In Technology award in 2004. In 2011, she was recognized as WICT's Woman of the Year. Last week, WICT announced the annual Nomi M. Bergman Fellowship, designed to support career development for high-potential women working for technology suppliers. Bergman enjoys being part of the Syracuse University community, as an adjunct professor at the iSchool.