STEM
Information Sessions Scheduled for 2017 Spring Break in Silicon Valley
Information Sessions for the 2017 Spring Break in Silicon Valley experiential learning trip held by the School of Information Studies (iSchool) have been scheduled.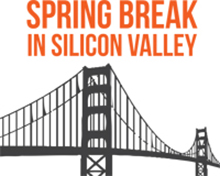 Spring Break in Silicon Valley is designed to give students a firsthand look at the companies, entrepreneurs, venture capitalists and way of life (both personal and professional) in San Francisco and California's Silicon Valley. The program is open to Syracuse University students from all majors, all schools and colleges, and all degrees.
The information sessions will give students a feel for what the trip is like, as well as providing information on how to submit a successful application.
The trip, planned for March 12 -17, 2017, focuses on face-to-face interactions with representatives of incubators, start-up companies and educational institutions. Previous SBinSV trips have included visits to LinkedIn, Facebook, Google, Twitter, Evernote, Tesla, Klout, eBay, Stanford University and Microsoft.
Students typically visit between 20 and 25 companies over the course of the five-day trip, and have a chance to interact with alumni and do a bit of sightseeing along the way. The exact itinerary of the trip visits varies from year to year, and depends on input from participating students.
Information sessions for the 2017 trip will be held on Tuesday, Oct. 11, from 3:30-4:30 p.m., and on Wednesday, Oct. 12, from 5-6 p.m. in the ICE Box on the second floor of Hinds Hall.
Registration closes at midnight on Friday, Nov. 25.
For more information and registration details, visit the Spring Break in Silicon Valley website, or contact Braden Croy at pbcroy@syr.edu.