Campus & Community
Explore the University's Robust Research Computing Resources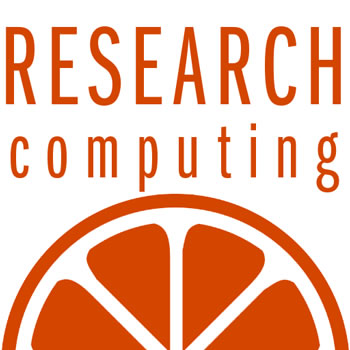 The upcoming series of Computing Colloquies is designed to help campus researchers identify and make the most of the diverse array of campus computing resources available at Syracuse University. All faculty, students and staff conducting, planning or supporting research activities are invited to the sessions.
Daniel Acuna, assistant professor in the School of Information Studies, will present "Improving Scientific Innovation: A data Science Perspective." Without tools, no scientist can keep up with new research trends and funding efforts. In this talk, he will show how he creates new kinds of tools to substantially accelerate linking publications and grants. Also, he will highlight how artificial intelligence and big data make this possible and how the University's research computing infrastructure and the iSchool are supporting these new efforts.
Thursday, Oct. 13. 3-4:30 p.m. Katzer Collaboratory, 347 Hinds Hall. Light refreshments will be served.
Shikha Nangia is an assistant professor of Biomedical and Chemical Engineering in the College of Engineering and Computer Science. She leads an active research group with focus on computational modeling of complex biological interfaces including, the blood-brain barrier, cancer drug delivery, bacterial membranes, antimicrobial peptides and self-assembled materials. Her group's use of University computing resources enables insights that propel us forward toward solving the blood-brain barrier puzzle and consequently aiding in designing novel therapeutics to treat the brain-related ailments.
Monday, Oct. 24. 12:30-2 p.m. Katzer Collaboratory, 347 Hinds Hall. Lunch will be included.
These sessions will explore how computing resources help researchers take on new and greater computational tasks, enhance research productivity, increase the competitiveness of grant submissions and advance scientific discovery across many disciplines. Participants will have opportunities to:
connect with other researchers on campus;
participate in an ongoing campus dialogue centered on research computing;
receive information on available resources and navigating the landscape; and
meet and engage SU's research computing staff.
The sessions are hosted by Information Technology Services (ITS), in collaboration with the Research Computing Advisory Council (RCAC).
Register Online or by Email
Please register for the session(s) you plan to attend using this online form or send an email to researchcomputing@syr.edu. In your email, please include your name, daytime phone number, the session(s) you plan to attend, and any accommodations you may require.
For more information
To find out more about the growing variety of research computing resources and activities at SU, visit researchcomputing.syr.edu.
If you have questions about the Computing Colloquy sessions, please send them to researchcomputing@syr.edu or Eric Sedore.