Health & Society
CEPH Accredits Falk College's Bachelor of Science in Public Health
Syracuse University has received accreditation by the Council on Education for Public Health (CEPH) for the bachelor of science degree offered through Falk College. Among the first colleges and universities in New York State to earn CEPH accreditation, the University's five-year term extends through Dec. 31, 2021.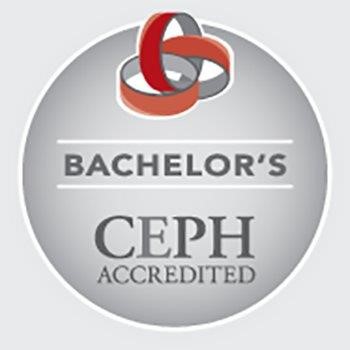 CEPH accreditation is based on the quality of an institution's educational program that prepares students for entry into the public health field as practitioners, health educators and other professionals who carry out broad public health functions in local, state, national and international settings. To earn and maintain accreditation, programs must meet specific educational quality standards related to leadership, management and governance, resources, faculty qualifications, curriculum, program effectiveness, advising and diversity.
"For prospective undergraduate students and their parents in the college selection process, CEPH accreditation provides assurance that programs meet important, accepted standards for the education of undergraduate students in public health," notes Associate Professor Maureen Thompson, a member of the public health faculty who led the CEPH accreditation team. "For prospective employers, accreditation indicates our curriculum covers essential areas critical to the practice of public health. And for our graduates, this accreditation helps enhance employment opportunities for positions that base eligibility upon graduation from an accredited program."
By 2020, the United States will need 250,000 additional public health professionals, according to estimates by the Association of Schools of Public Health. The Department of Labor reports employment of health educators will increase through 2020. Falk College's focus on experiential learning, in addition to its CEPH accreditation, is beneficial not only for students but the local community as well.
"Falk College's public health program utilizes a service learning approach to integrate community-based learning opportunities with classroom instruction. Students complete 480 service hours while being engaged in promoting health, planning, implementing or evaluating health education, understanding diversity and improving health literacy. This service learning culminates with a nine-credit, 400-hour internship that demonstrates student expertise in a practice setting. Our public health students provide an estimated 30,000 hours of service work to the Syracuse University and regional community each year," says Dean Diane Lyden Murphy, Falk College.
The Council on Education for Public Health (CEPH) is an independent agency recognized by the U.S. Department of Education to accredit schools of public health and public health programs offered in settings other than schools of public health. These schools and programs prepare students for entry into careers in public health. The primary professional degree is the Master of Public Health (M.P.H.), but other baccalaureate, master's and doctoral degrees are offered as well. For more information, visit www.ceph.org.