Campus & Community
University Launches Orange SUccess to Better Connect Students, Faculty, Advisors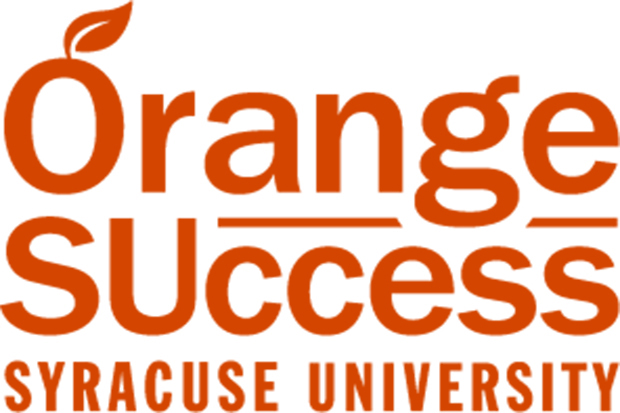 Syracuse University students have a new online tool available this fall to help them stay better connected with their professors and advisors and on track academically from semester to semester.
The program, known as Orange SUccess, is a web-based advising tool by which faculty can alert a student to issues—such as absence from class, assignment concerns, a poor grade or low participation—before they become a major concern. Faculty can also use the system to congratulate students for their good work or improved effort. Students, in turn, can use Orange SUccess to initiate a dialogue with their advisor and/or professor about a particular course, overall degree progress, or a more general concern. They can also use the system to schedule appointments with faculty and advisors.
"Our goal in adopting this program is to leverage technologies available to us to more effectively serve students and help ensure they have a successful academic experience here," says Kal Srinivas, director for retention in the Office of Academic Programs at Syracuse University. "That, in turn, bolsters our student retention rate, because students on track academically are more likely to remain in school through to graduation. So it's a win-win for the student and for the University."
Enhanced advising and retention services emerged as a Universitywide goal in the Academic Strategic Plan process, completed last year. Orange SUccess is part of that effort, working to boost student retention rates by flagging problems early before they potentially impact a student's academic progress. By looping in faculty and students, as well as advisors, the program facilitates a coordinated, team-based response to student concerns and prompt referral to appropriate resources for academic success.
Participation is critical to the program's success. All undergraduate students, faculty and advisors will automatically have access to Orange SUccess via MySlice and Blackboard (under Tools). Once users sign in, they should click on the Orange SUccess link found under the Faculty Services pagelet or on the "Ask for Help in Orange SUccess" link found under the Student Services pagelet. For students, their home page includes access to a customizable profile and personalized channels connected to faculty and advisors.
Faculty participation is especially critical, Srinivas says, and the goal is to get 80 percent of faculty on board this first year. One-hour online training sessions are available at the following times for all interested faculty:
Sept. 7, 6:30 p.m.
Sept. 9, 2:30 and 4 p.m.
Sept. 14, 6:30 p.m.
Sept. 16, 2:30 and 4 p.m.
Sept. 21, 6:30 p.m.
Sept. 23, 2:30 and 4 p.m.
Sept. 28, 6:30 p.m.
Sept. 30, 2:30 and 4 p.m.
To access the faculty training sessions, go to https://webconference.syr.edu/fall_2016_faculty_information_sessions.
Piloted last spring in the College of Arts and Sciences, the Whitman School of Management and University College, Orange SUccess is part of a national program, Starfish Retention Solutions, in use at more than 300 colleges and universities nationwide. Srinivas says feedback from the pilot was predominantly positive, from both students and participating faculty. Since the pilot, the team continues to work with the Office of Disability Services and Equal Opportunity, Inclusion and Resolution Services to ensure the program is accessible to as many users as possible. The Orange SUccess team has already received one update from Starfish with improvements to accessibility and expects another update in mid-November. More information, including an accessibility update, is available on the Orange SUccess website.
To get started with Orange SUccess, go to MySlice or to Blackboard and click on the Orange SUccess link.
To learn more about Orange SUccess, go to the program website at orangesuccess.syr.edu or e-mail orangesuccess@syr.edu.