Campus & Community
University Adds New Features to Mobile App
Students can now check SU Food Services menus and locations; order and pay for food ahead of time at Food Service locations and nearby off-campus locations; track and check arrival time for Centro buses; and view Lynda.com tutorials all from the palm of their hand.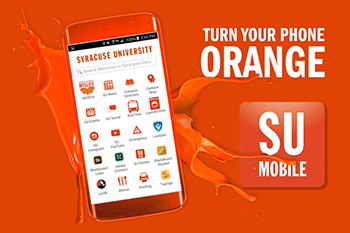 Information Technology Services (ITS), the team responsible for managing the Syracuse University Mobile app, recently added the new features. Available free in the Google Play store and Apple App Store, the app offers a wealth of current information about the University and provides safe, secure access to information in MySlice.
In addition to the new features, students can view their class schedules and grades and search for classes. The app continues to deliver the latest University news and events and provides access to the University's online directory to search for students, faculty and staff; campus maps; interactive SU social media; laundry machine status; and more.
"I like that you can access some of the important applications in one place without having to access the web on my phone or a computer," says Austin Rhoads '17, a student in the School of Information Studies. "I like the Blackboard integration the best."
Syracuse University Mobile grew out of Chancellor Kent Syverud's initiative aimed at generating ideas and input from students to create new communications tools for the University to connect better with students. Led by Whitman School Associate Dean of Undergraduate Programs and Professor of Retail Practice Amanda Nicholson, the initiative spawned two ICE (Involvement. Communication. Education.) Tournaments, each of which involved teams of students, staff and faculty. The teams developed innovative ideas to increase student engagement.
"The ICE Tournaments were an incredibly productive and rewarding experience," says Nicholson. "There are pages upon pages of notes filled with creative ways to enhance student engagement, increase student involvement and better the University's mode and manner in which it communicates."
"ITS spun several of the ideas from the Tournaments into SU Mobile," says Sam Scozzafava, chief information officer and vice president for information technology. "The new bus tracking feature is a good example of the ongoing input from students that feeds the continuous improvements we're making to the app."
The app's features now include:
New! SU Food Services menus and locations
New! Centro bus tracking
New! Integration of Tapingo and Lynda.com apps
MySlice Student and Faculty Services Modules

Grades for all semesters during which the student took courses

Entries include links to all class details

Exam Schedule for both students and faculty
Class schedule (current term only)
Class search

Current and next term (when available)
Search using many criteria, including subject area, subject code, course number, course career, class number, course keyword, mode of instruction (in person, online, etc.), session, days and times
Class details available for each result: start/end dates, days, class location and times, and all dates and deadlines (financial drop, academic drop, class add, withdrawal)
SU News feed
Campus Maps (Google)
SU Events Calendar
SU Directory
Social Media

Users can view and share items from these modules from within the app
Aggregates the main SU Twitter and Facebook accounts
SU YouTube channel available in Video module
Photos module uses SU Instagram feed
As with all mobile apps, updates and enhancements are constantly being deployed."We hope to see improved campus mapping soon, as well as tracking and schedules for Birnie buses," says Jenny Gluck, associate chief information officer for academic services. "We continue to seek student input and ideas about new ways the mobile app can improve their student experience. Everyone is encouraged to send ideas and comments to help@syr.edu."
You can download the free SU Mobile app in the Google Play store and Apple App store.