Campus & Community
Register Now to Participate in C.A.R.E. Dialogue Circles
Syracuse University community members are invited to participate in C.A.R.E. dialogues this semester.  Registration for the fall semester is due by Wednesday, Sept. 21. Conversations About Race and Ethnicity (C.A.R.E.) is a six-week sustained dialogue space for community members of Syracuse University to engage in meaningful, challenging, critical and urgent conversations about race and ethnicity.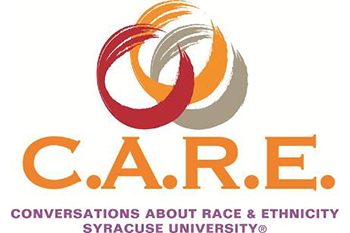 Circles begin the week of Oct. 2, and end the week of Nov. 6. Student Circles are offered Monday, Tuesday and Thursday from 7 to 9 p.m. and are open to undergraduate and graduate students.  The Staff, Faculty, Administration Circle is offered on Fridays from 10 a.m. to noon.
C.A.R.E. challenges participants to explore their racial and ethnic identity, understand the experiences of others, critically identify social systems of oppression and work toward living a more socially just life. Participants must be available to attend all six circles, engage in active listening, complete weekly reading, submit critical reflection pieces and be prepared to participate.
For more information, visit the C.A.R.E. dialogue webpage or contact Jordan S. West.