Arts & Culture
Latino/Hispanic Heritage Month 2016 Begins Sept. 15
The Office of Multicultural Affairs (OMA) will host Latino/Hispanic Heritage Month (LHHM) from Sept. 15 to Oct. 15. The 11th annual program features musical performances, traditional cuisine samplings, dance parties and compelling speakers. This program provides the campus and local community with a great opportunity to reflect on, learn more about and experience the richness of Latino American cultures in our society.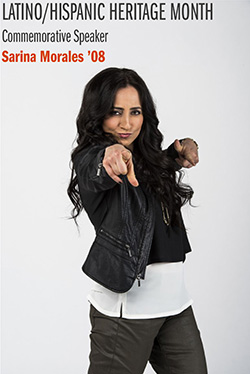 The month begins with an opening ceremony on Sept. 15, which includes a parade on the University Place Promenade at 11:15 a.m. and remarks and reception at 11:30 a.m. in the Schine Student Center Atrium.
The celebratory month honors Spanish, Latino American and Afro-Latino cultures in the United States. Sept. 15 commemorates the anniversary of independence for five Latin American countries: Costa Rica, El Salvador, Guatemala, Honduras and Nicaragua; and Mexico and Chile celebrate their independence days on Sept. 16 and 18, respectively.
"One Community, One University, One Family" is the theme for the 2016 LHHM program.  "This year's theme emphasizes unity within our communities," says James K. Duah-Agyeman, chief diversity officer for the Division of Student Affairs and director of the Office of Multicultural Affairs.  "This program is designed to generate new perspectives and understanding about the important role Latinos and Hispanics play in U.S. history and the positive impact of Latino and Hispanic cultures in American society."
OMA's partners in the coordination of this program include the Office of Program Development, University College, La Casita Cultural Center, Community Folk Art Center, Kappa Chapter of Phi Iota Alpha, Fraternity Inc., the College of Arts and Sciences' Office of Cultural Engagement for the Hispanic Community, the Latino-Latin American Studies Program, Point of Contact Gallery and more.
The commemorative speaker is Sarina Morales '08, a graduate of the S.I. Newhouse School of Public Communications and contributor to multiple ESPN platforms, including anchoring "SportsCenter:AM." During her time at SU, Morales was a member and president of the National Association of Hispanic Journalists. Morales will speak on Thursday, Oct. 6, at 6 p.m. in Heroy Auditorium.
"Morales was an active and engaged student and continues to bring her enthusiasm and engagement as a proud alumna.  We are thrilled to have her back on campus as our commemorative speaker for LHHM," says Angela Morales-Patterson, assistant director of alumni and donor engagement in the Office of Program Development and co-chair of the LHHM committee.
One of the most highly anticipated events of the month, Fiesta Latina, will take place on Saturday, Sept. 24, at 7 p.m. (doors open at 6:30 p.m.) in Goldstein Auditorium, Schine Student Center. Tickets are available at the Schine Box Office: Students with ID, $5; all others, $10.
"Latino/Hispanic Heritage Month gives us a chance to celebrate what each of our cultures bring to the Syracuse University community," says Marissa Willingham, program associate for budgets and operations in OMA and co-chair of the LHHM committee. "The LHHM committee strongly encourages all students, faculty, staff and the greater campus community to join us in celebrating the 'la cultura Latina' through all the events and programs on campus. We are very excited for this year's events."
LHHM is one of four celebratory months coordinated by the Office of Multicultural Affairs. Upcoming heritage months include: Native Heritage Month (November 2016), Black History Month (February 2017), and Asian American and Pacific Islander Heritage Month (April 2017).
A printed calendar of events will be available in OMA, 105 Schine Student Center.  For more information, visit the Office of Multicultural Affairs website or contact Willingham at 443.9676 or mlwill07@syr.edu.