Campus & Community
Falk College Hosts Author, Nutritionist Jill Castle Oct. 6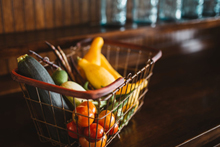 Falk College and its Nutrition program will host the Second Annual Ann Selkowitz Litt Distinguished Speaker Series featuring childhood nutrition expert and author, Jill Castle, MS, RDN, CDN, on Thursday, Oct. 6, 2016 at 6:30 p.m. in Grant Auditorium. Her presentation, "Fueling the Growing Athlete: What's In, What's Out and What's Essential," is free and open to the public. It will cover:
• Appropriate sports nutrition advice for young athletes.
• How to understand and avoid the food and feeding pitfalls that commonly plague growing athletes, such as back-loading food intake and unhealthy food environments.
• The hierarchy of food and nutrients when it comes to growing strong, healthy, performance-enhanced young athletes.
Castle has practiced as a registered dietitian/nutritionist in pediatric nutrition for over 25 years. She is a national and international speaker, addressing the topic of childhood nutrition and feeding to a wide variety of groups, including medical professionals, allied health professionals, parent, school and other interest groups.
Castle is the author of CEat Like a Champion: Performance Nutrition for Your Young Athlete," co-author of "Fearless Feeding: How to Raise Healthy Eaters from High Chair to High School" and creator of "Just the Right Byte," a childhood nutrition blog. In addition, Castle has been published in peer-reviewed journals, textbooks, consumer books and other blogs. She is the nutrition expert at Bundoo.com, and has been a regular contributor to USA Swimming, U.S. Rowing, and About.com.
Ann Selkowitz Litt '75 (1953-2007) was a nationally known nutritionist who helped children and adolescents with eating disorders and assisted developing athletes in reaching their full potential. The nutrition consultant to CosmoGirl magazine, Litt was the author of "The College Students' Guide to Eating Well on Campus" and other publications and was the nutritionist for the NFL's Washington Redskins. She served as spokesperson for several media campaigns during her career, including the Got Milk campaign. After her death, the Ann S. Litt Foundation, Inc. was created to support nutrition education. Through a generous gift from this foundation to Falk College, the Ann Selkowitz Litt Distinguished Speaker Series was created at Syracuse University in 2015.
This event is approved for 1.5 CEU credits for registered dietitians. For more information about upcoming events at Falk College, visit falk.syr.edu.
URL: http://falk.syr.edu/event/fueling-the-growing-athlete-whats-in-whats-out-whats-essential/?instance_id=220
Contact: Donna Sparkes
Falk College, Nutrition
315.443.5573
djsparke@syr.edu