Campus & Community
Alumni, University Community Celebrate Orange Central Weekend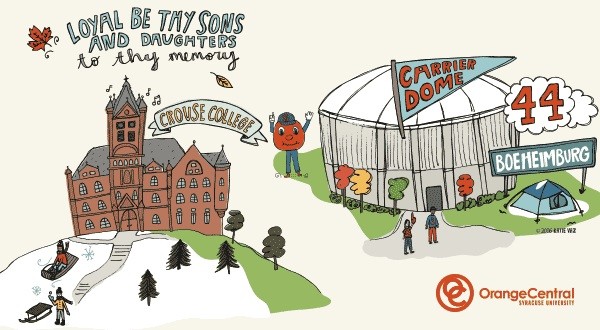 The excitement is building for Orange Central homecoming weekend, Sept. 15-18.
Alumni will be back at Syracuse University to share good times, meet up with friends and experience all the traditions—and changes—on campus. This year, the theme for Orange Central is "Welcome Back to Your Happy Place."
Orange Central is a once-a-year celebration for the entire Syracuse University community. Homecoming and reunion all rolled into one, it brings Syracuse University students, alumni, faculty, staff and friends together to enjoy dozens of activities, from lectures and panel discussions to campus tours, performances, and social and athletic events.
Orange Central will also include a football game on Saturday vs. University of South Florida.
Online registration for the weekend is now closed. In-person registration will take place in Goldstein Alumni and Faculty Center on Thursday from 2-8 p.m. and in Schine Student Center on Friday from 8:30 a.m.-8 p.m. and Saturday from 8:30 a.m.-3:30 p.m.
For questions, contact the Office of Alumni Engagement at 315-443-3258 or email sualumni@syr.edu.
To see the entire list of events and join in the fun, visit http://orangecentral.syr.edu.