Campus & Community
Alumni Association Launches Professional Development Series: 'Orange Advantage'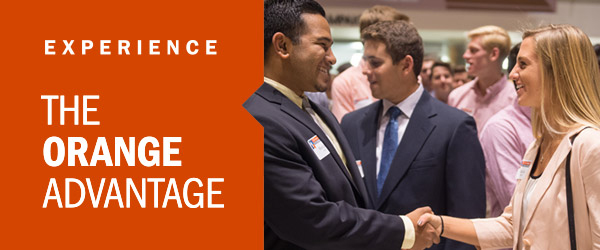 The Syracuse University Alumni Association is launching a new professional development event series in partnership with the University's Career Services office and alumni clubs across the country.
The new event series—titled "The Orange Advantage"—will demonstrate the immense value of a Syracuse University degree and the willingness of Syracuse alumni to help out fellow Orange graduates. Syracuse University boasts a vast network of more than 250,000 alumni worldwide. Many graduates rely on this strong and connected network to advance their careers.
"Our alumni are always ready, willing and able to help each other—and we want to help them. The Orange Advantage events provide alumni the opportunity to grow as professionals with guidance and support from their alma mater," says Mike Cahill, director of career services.
Beginning Sept. 27 in Charlotte, the first events in the Orange Advantage series will take place in seven cities across the country. Sessions, which cost $10 per participant, include an interactive workshop and networking opportunities over food and beverages.
The Orange Advantage will also travel to Raleigh (Sept. 28), Detroit (Oct. 11), Chicago (Oct. 12), Buffalo (Oct. 25), Rochester (Oct. 26), Albany (Nov. 1) and the west coast (January 2017).
"The Syracuse University network is far-reaching, and we know the Orange Advantage series offers a terrific opportunity to educate our alumni and give them access to the powerful Orange network," says David Bartell, executive director of outreach programs in the Office of Alumni Engagement.
The first workshop in the event series—"True Colors"—is an interactive session led by Career Services staff members. It is designed to help participants learn about interpersonal styles, as well as the different methods of communication. Attendees will develop more constructive and meaningful relationships, both personally and professionally, as they gain insight into their own communication and personality styles. Alumni will learn about different career possibilities related to their own personal styles.
For more information about the Orange Advantage events, visit http://www.syr.edu/alumni/events/orangeadvantage.html.