Campus & Community
New Bus Stops Operational Beginning Today
As students return to campus next week, a number of new transportation options will be made available for members of the campus community. This is part of the ongoing effort to create a more efficient campus traffic flow, enhance roadway safety, and ensure a seamless level of accessible transportation services for all campus members. This will also allow Centro buses to more efficiently serve all campus community members on ADA-friendly routes through campus and to/from its downtown Centro transit hub.
Beginning today, new bus stops are operational along College Place and Waverly Avenue. The new bus stops afford passengers more convenience in taking a Centro bus either to the downtown Syracuse transit hub, or popular destinations for shopping and entertainment throughout Central New York.
Waverly Avenue: There will now be four bus stops located on Waverly Avenue, including two stops for buses heading eastbound, and two stops for buses heading westbound. The bus stops and destinations are highlighted in the map below. View a full sized version of this map here.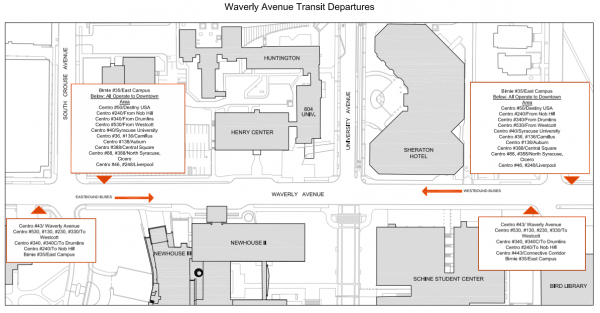 College Place: City routes heading to the downtown Centro transit hub will now pick up passengers on the Life Sciences Complex side of College Place. The new bus stop and destinations are highlighted in the map below. View a full size version of this map here.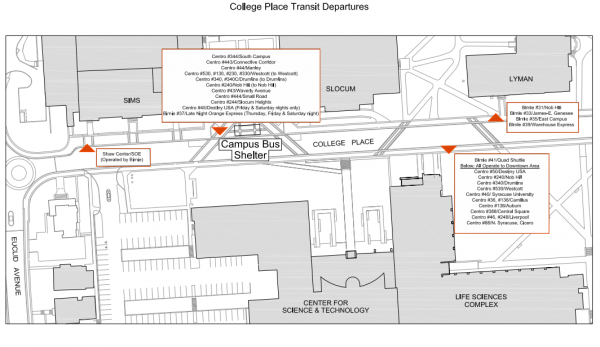 For questions pertaining to the new bus stops, please call Parking and Transit Services at 443.4652. And if you have questions pertaining to accessibility, contact Aaron Hodukavich, director and ADA coordinator in the Office of Equal Opportunity, Inclusion and Resolution Services, at 443.2377 or ajhoduka@syr.edu.
Parking and Transit Services
http://parking.syr.edu/