Health & Society
New Book by David B. Falk Professor Rick Burton Out This Week
Rick Burton, the David B. Falk Professor of Sport Management, will release his newest book, "Sports Business Unplugged: Leadership Challenges from the World of Sports" (from Syracuse University Press) at a most auspicious time. The book, due in stores this week, arrives just as the Olympics in Rio de Janeiro commence.
The leadup to the Rio games has been plagued with problems and controversies, from the containment of Zika, the mosquito-borne virus that broke out in Brazil, to the doping scandal that is taking a large toll on Russian athletes who had hoped to compete in the Summer Games and now find themselves sitting them out.
As the world looks to the Olympic games, Burton and his co-author and Sports Business Journal writing partner Norman O'Reilly, the Richard P. and Joan S. Fox Professor of Business and chair of the Department of Sports Administration at Ohio University, explore a variety of provocative topics from the world of sports in their wide-ranging collection.
Burton, who served as the chief marketing officer for the U.S. Olympic Committee for the 2008 Beijing Summer Olympics, knows the challenges of overseeing such a large organization well.
"It's important to believe our sporting contests are pure, but we know they aren't always so, but we hope," says Burton who notes that there are anecdotes in the book that reflect the tough situation Olympic organizers face. "Sport continues to provide an opportunity to bind us together and to overcome circumstances. I would hope all of this makes us stronger. "
The idea to compile "Sports Business Unplugged" came when Burton and O'Reilly realized that they had reached a milestone with their 50th Sports Business Journal column. "While we've been writing these columns regularly, we were aware that the rate of change in the industry seems to be accelerating. There's never been a better time to reintroduce insights on challenges and how to address them," Burton says.
"I look forward to the monthly columns by Rick and Norm, as they always provide thought-provoking commentary surrounding topics we all face in this business," says John Swofford, commissioner of the ACC. "Having a collection of their work in a single book makes this a must-have for any reader."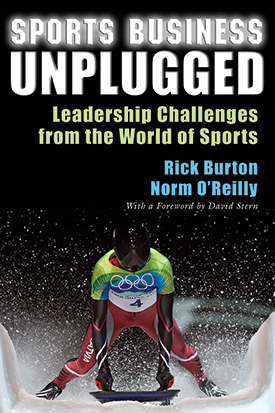 "If there has been a theme to the columns it has been helpfulness," says Burton when explaining the common ties among all of the articles he and O'Reilly have penned since 2009. "I have over 30 years in the industry. Norm and I have had a chance to see a lot of things, and when we write we are writing not only for practitioners but for the students having to solve those problems in the future."
Which is why Burton is making plans to bring "Sports Business Unplugged" into the classroom to use as a teaching tool with his students. "I would use handouts of columns at different times, but they were never in the same place," says Burton. "Depending on what's coming up in a classroom, topics of the day, now you can find it in chapter 3, page 43. Recent news like the NBA All-Star game being pulled out of North Carolina, for instance. Well, there is probably a column that addresses that, and with 'Sports Business Unplugged' I can direct students to the relevant material more quickly."
Fast-changing technology in recent times has had a palpable impact inside and out of the classroom as well as the traditional sports business. "Social media reaches corners of the sports world that were unimaginable a few years ago," says the commissioner of the National Hockey League. "Analysis of the industry has grown more sophisticated than ever. 'Sports Business Unplugged' would be a solid addition to the library of anyone eager to follow and process the warp-speed developments of this constantly evolving universe."
"It is not like it was in the '60s," says Burton. "We have fantasy leagues, video games, online gambling. We are able to instantly access athletes directly. The tech we use to deliver the games is changing. When I was a kid there were three channels and now there are 500. Then there are the cord cutters who watch things online who want immediate access. Sport always rises to the challenge. But the nature of the delivery changes the nature of sports. This book will demonstrate this seismic shift quite clearly for enthusiasts and our students and how we as leaders can navigate it."