Campus & Community
Be a Part of Healthy Syracuse! Become a Wellness Champion
The Syracuse University Wellness Initiative invites faculty and staff to join the Wellness Champion Network to spread awareness of programs, promote healthy habits.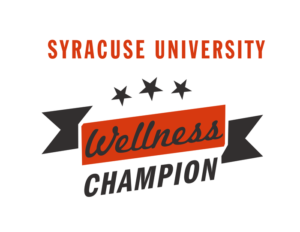 Each day, members of our community commit to helping make campus a healthier place. The Wellness Champions are a diverse group of volunteers from all parts of SU who are passionate about wellness and strengthening the culture of wellness here at the University. "I became a Wellness Champion because I love everything that has to do with being fit and living a healthy lifestyle, says Keone Weigl, marketing and promotions manager in Food Services. "Everyone can benefit from making small changes in their lives to become healthier. This will impact your life immensely. Small changes can result in fewer sick days and a better awareness of what makes your body feel good."
Started in April 2015, the network has 36 current Wellness Champions who help raise awareness of the wellness and work-life opportunities available to faculty and staff through the University Wellness Initiative as well as other opportunities offered by Healthy Monday Syracuse, Department of Recreation Services, Hendricks Chapel and more. These offerings include free fitness classes, meditation sessions and seminars on work-life balance and more.
If you have an interest in health and wellness and want to make a difference, consider joining the Wellness Champion Network to help SU faculty and staff live their best, healthiest life every day.
Visit wellness.syr.edu/champions to learn more about the program and meet some of the champions!
Apply today! Next meeting Sept. 20
Questions? Email wellness@syr.edu or call 315.443.5472
Add your name to our email list to stay up to date on the latest wellness events.