Campus & Community
Volunteers with Tinnitus Sought for Research Study on Auditory Processing of Silent Gaps in Noise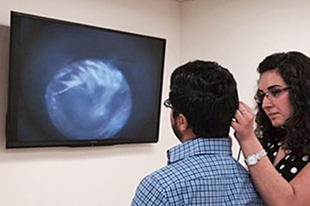 Men and women aged 18 and older with tinnitus (the sensation of a constant ringing, buzzing, whistling, chirping or other sound heard with no external source) in one or both ears are needed to participate in a research study investigating the effects of tinnitus on neural processing of silent gaps in noise. Please note that participants will be verbally screened for the following: uncontrolled medical issues such as diabetes or hypertension; if you are a heavy smoker; or if you think you cannot sit comfortably in a recliner for the duration of the study (with breaks included). Verbal confirmation of any of these criteria will mean that you cannot participate in this study. Your middle ear function will also be screened as part of the study and if it is abnormal you will not be able to participate.
The study takes place at Syracuse University in the Auditory Evoked Potentials Lab at 621 Skytop Road, Room 175.
The study involves one visit which will take approximately 1 to 1-1⁄2 hours. You will relax in a comfortable chair listening to sounds through earphones while we monitor neural activity from your auditory system and brain using electrodes placed on your head. You will be paid $10 for the first hour and $5 for every additional 30 minutes of your time. Free parking is available.
Contact:
Kenneth Morse
Department of Communication Sciences and Disorders
315.443.7975
kmorse@syr.edu