Campus & Community
Office of Human Resources Transforms to Offer Improved Service and Support to Faculty and Staff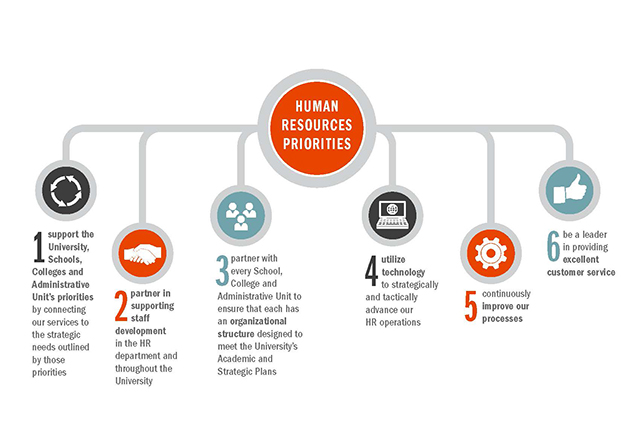 In collaboration with a Universitywide Working Group, other University committees comprised of faculty and staff, and review of campus survey results, the Office of Human Resources (HR) has completed a thorough evaluation of its current structure and identified a number of areas for modernization and refinement. Thanks to campuswide input, HR is working to enhance its systems to provide better service, align its priorities with the strategic needs of the University, support staff development and adopt customer service success metrics.
Effective immediately, Human Resources is organizing into three main portfolios to better serve faculty and staff. These changes were prompted after HR met with University community members to better understand the important need for human resources services, transactional support and professional development. The common goal is to develop a highly skilled, proactive and service-oriented organization that delivers well-conceived and well-designed services and programs to the University's faculty and staff.
New Model Includes Three Main Areas
Human Resources will be organized into three main areas: Centers of Expertise, a revitalized Shared Services Center and experienced HR professionals as Senior Human Resource Business Partners. As a result of the new organizational structure, HR will focus on accomplishing the following strategic goals:
Building stronger partnerships with schools, colleges and administrative units;
Improving and streamlining HR transactions, thereby reducing the amount of school and college staff time devoted to HR matters; and
Identifying professional development opportunities for University employees.
"By transforming the focus of HR and organizing into three areas, we can better align our services with University priorities, support staff and leadership development, and assist with all HR-related matters," says Andrew R. Gordon, senior vice president and chief human resources officer. "The team will offer human resources expertise across all disciplines for strategic guidance and support. Faculty and staff will have one dedicated and integrated department to meet all human resources needs."
Following a competitive selection process this spring, the leaders of each of the teams were selected and their representative areas were identified. Karen Morrissey has been named associate vice president for Human Resources and will oversee the direction of the Centers of Expertise and the Shared Services Center.
Centers of Expertise
The Centers of Expertise will include five centers, each with a clearly defined focus, as well as a dedicated and expanded set of services and skill sets. The centers and the directors leading each team include:
Shared Services Center
Julie LaFave has been named the new director of the Shared Services Center. Shared Services is a model that organizes operational and transactional HR functions to deliver consistent, reliable and customercentric HR services. The model assesses people, processes and technology to provide quality HR service delivery. The HR Shared Services Center will leverage the foundation of the current HR Service Center to provide additional services that allow the schools, colleges and administrative units to focus on their goals rather than transactional HR functions.
Senior Human Resource Business Partners
Reporting directly to Gordon, the Senior Human Resource Business Partners serve as experts who provide frontline strategic advice on a variety of HR matters to a dedicated set of schools, colleges or administrative units. The Senior HR Business Partners are already working with leaders in schools, colleges and administrative units identifying staff development opportunities, offering strategic advice and assisting with HR matters in their areas. One of the benefits of having a dedicated HR partner includes providing faculty and staff more time to focus on the needs of students and less time devoted to HR matters.
The Senior HR Business Partners in their areas of support include:
Joseph Behan—College of Law, Whitman School of Management, Newhouse School of Public Communications
Anneliese Renaud—Advancement and External Affairs, Business Finance and Administrative Services
Jake Tanksley—Maxwell School of Citizenship and Public Affairs, College of Arts and Sciences, School of Education
Claire VanDenBerghe—Falk College of Sport and Human Dynamics, College of Engineering and Computer Science, School of Architecture
Until the entire team has been identified, Gordon will continue to provide support to other administrative units, including Academic Affairs, as well as the College of Visual and Performing Arts, the School of Information Studies and the area of labor relations.
What's Ahead?
Faculty and staff will learn more about this transformation throughout the summer and into the fall semester as the full team is identified and the process improvements are prioritized. Work is underway to enhance the Human Resources website to provide updated information and organizational priorities, the latest details related to Syracuse University benefits, and improved site navigation.
With additional support necessary to provide the comprehensive services, particularly in the new Shared Services Center and Talent Management, job postings will be added to the University job website seeking qualified candidates.
In addition, Gordon will hold regular office hours to engage in open dialogue and to solicit feedback from the campus community throughout the summer and into the start of the new academic year. His office hours will be held on Wednesdays 9 a.m.-1 p.m. in 434 Crouse Hinds Hall.